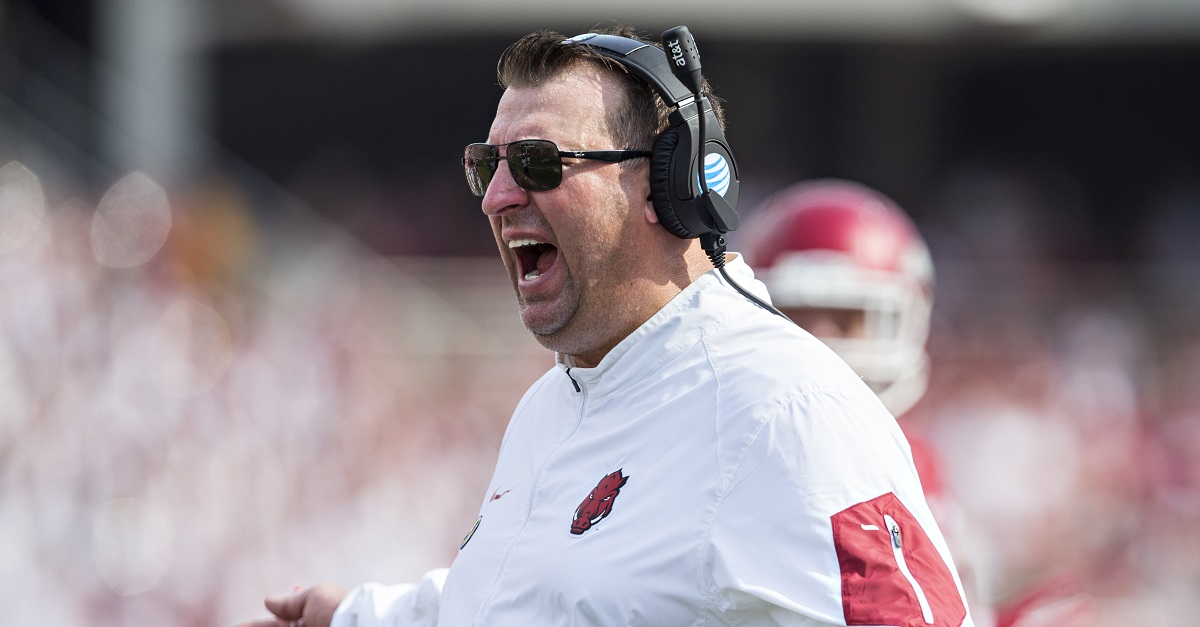 Wesley Hitt/Getty Images
FAYETTEVILLE, AR - SEPTEMBER 5: Head Coach Bret Bielema of the Arkansas Razorbacks talks with a official during a game against the UTEP Miners at Razorback Stadium on September 5, 2015 in Fayetteville, Arkansas. The Razorbacks defeated the Miners 48-13. (Photo by Wesley Hitt/Getty Images)
The Bret Bielema era at Arkansas has come to an end, and after an 11-29 record in SEC play over five seasons, there is a reason for it to be over.
Still, Bielema didn't deserve for it to happen like this.
Bielema was officially fired on Friday as soon as he walked off the field after Arkansas's 48-45 loss to Missouri. Soon after he was fired, the program handed out a pre-typed press release announcing the decision, which can be seen here.
While the program hasn't experienced success under Bielema, most felt that he had earned more from the program than to be fired literally as he walked off of the field. Considering that most programs wait until the next day to formally announce the decision, both fans and media alike took offense at Bielema getting the ax before he could even talk to his players after the game.
Money speaks the loudest at the end of the day, but don't think that prospective coaches for Arkansas didn't notice what happened here.
For what it is worth, Bielema did follow through with his post-game interview obligations, where he praised the Arkansas program and wished them the best in the future.
Bielema joined Arkansas in the 2013 season after jumping ship from Wisconsin, but he failed to capture much success compared to what Arkansas experienced in the late-2000s. In five full seasons in Fayetteville, Bielema finishes with a 29-34 overall record, including a dismal 11-29 in SEC play.