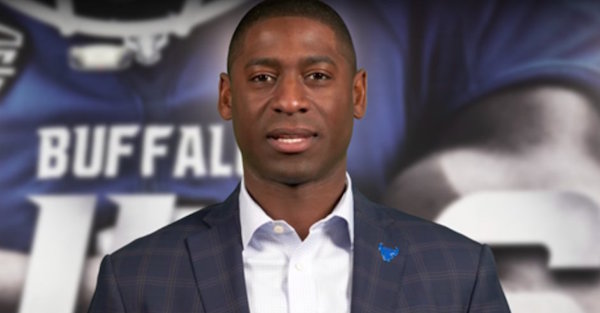 @patsmithradio/Twitter
@patsmithradio/Twitter
Auburn has reportedly hired Buffalo athletics director Allen Greene to replace retiring AD Jay Jacobs, according to Auburn Undercover.
Greene, whose hiring still needs to be cleared by the Auburn Board of Trustees, will be the third African-American athletics director in SEC history, following former Georgia AD Damon Evans (2004-10) and Vanderbilt's David Williams II.
The hiring is expected to be made official as early as this week, although an Auburn spokesperson refused to comment when reached by Auburn Undercover.
"We won't have any information on the AD search until an announcement is made," the spokesperson told the website.
Greene, 40, is one of the youngest active athletics directors in the NCAA. He joined Buffalo's athletics department in November 2015 and was initially hired as an associate athletics director before being promoted to AD in 2015.
Greene had previously worked as a senior associate athletics director at Ole Miss from 2009-2012, serving as a right-hand man to Danny White — the school's chief development officer of the UMAA Foundation — as well as playing a vital role in fundraising efforts.
Greene followed White to Buffalo, where the latter served as the school's AD before taking the same position at UCF in late 2015, leading to the former's promotion.
"Allen has worked very closely with outgoing AD Danny White in developing the strategic plan that has guided all this progress, and he has led a number of key elements of this vision, including spearheading a comprehensive facilities master plan for UB athletics; leading major capital projects; and building key donor and corporate relationships," University at Buffalo president Satish K. Tripathi wrote at the time of Greene's elevation to athletics director. "In short, Allen has been at the heart of the successful vision that has guided our athletic programs over the past three years."
Greene, a former baseball player at Notre Dame and within the New York Yankee's farm system, also worked in his alma matter's athletic development and compliance offices from 2003-09.
He will replace current Auburn AD Jay Jacobs, who announced his retirement in November with the intention to hold the job until June 2018 or until the school found a replacement.