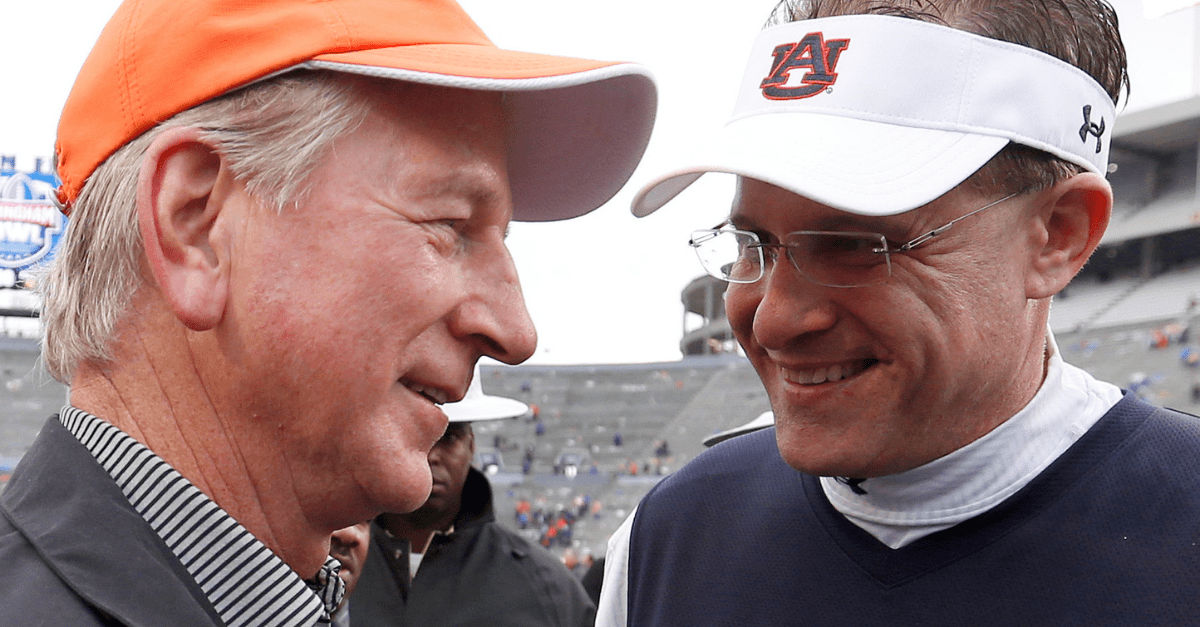 AP Photo/Butch Dill
AP Photo/Butch Dill
Gus Malzahn, Tommy Tuberville and Gene Chizik all have in common that they were the head coach Auburn Tigers football program, but they also caught a ton of negative attention in the process.
Chizik, who coached the Auburn football team from 2009 to 2012, defended Malzahn last week on ESPN radio saying that the current Tigers coach was "fighting an uphill battle."
Chizik also said that he thought part of the problem down at Auburn is that the major players down on the Plains have a knee jerk reaction to what?s going on across the state in Tuscaloosa.
Tommy Tuberville, who led the Tigers 1999 to 2008, agreed with Chizik and took his comments even further on a radio talk show out of Mobile, Alabama.
"Gene?s been there," Tuberville said. "I?ve been there. It?s just a tough situation. Gus has been there six years now and done an admirable job. He went to the dang finals and lost to Florida State. It?s been up and down where everybody wants consistency. Unfortunately at Auburn, you have a lot of people who stick their nose in who know nothing about football. That?s basically what he is saying."
RELATED: Get Your Popcorn Ready for Auburn-Purdue in the Music City Bowl
Tuberville and Chizik know of what they speak. Both were thrown overboard for another coach after winning championships at Auburn.
Chizik won a national championship at Auburn with Cam Newton after 50-plus years of not winning a national title, but he was fired by Auburn just two years later and replaced with Gus Malzahn.
Tuberville was replaced by Chizik despite the fact that he lead Auburn to an undefeated season and an SEC title back in 2004. He also defeated Alabama in the Iron Bowl six years in a row back in the early 2000s. Eventually, the powers that be replaced Tuberville and would have done it earlier had former Auburn assistant Bobby Petrino taken the job.
Malzahn finds himself in a similar situation. Finding success in his first year at Auburn by leading the Tigers to the national championship game in 2013, but they lost to Florida State.
But the program has been inconsistent at best since then, which has not sat well with most Auburn fans. Malzahn now finds himself squarely on the hot seat next season just like predecessors and wondering if he can save his job or if is it already too late.