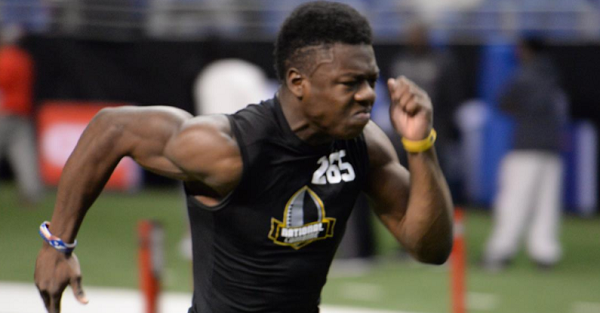 247Sports
Bo Jackson is an absolute legend in the Auburn football community and with good reason. The ferocious running back is on the short list of best players in program history and the 1985 Heisman Trophy winner is well regarded throughout the college football world. That makes Monday's news even more exciting for those clad in orange and blue as Jackson's nephew, Shedrick Jackson, officially committed to Auburn.
Jackson is a three-star wide receiver prospect in the Class of 2018 and he reportedly chose Auburn over suitors including Mississippi State and Georgia Tech. Obviously, Shedrick isn't quite the recruiting get that his uncle was but, in speaking to Benjamin Wolk of SEC Country, Shedrick made it clear that he understand the stakes.
?Obviously it?s going to get a lot of attention. But really what you?ve got to do is go out there and make a name for yourself. It?s not Bo Jackson going out there anymore. It?s not him scoring touchdowns or running 40-yard dashes. You?ve got to go out there and make a name for yourself.?
The rising senior from Hoover (Ala.) stands at 6'2 and 195 pounds and Jackson ranks as the No. 89 wide receiver in the country according to the 247Sports composite. Expectations should probably be mild as a result but, in the same breath, it is undeniably cool that he will follow in his uncle's footsteps on The Plains. Stay tuned.