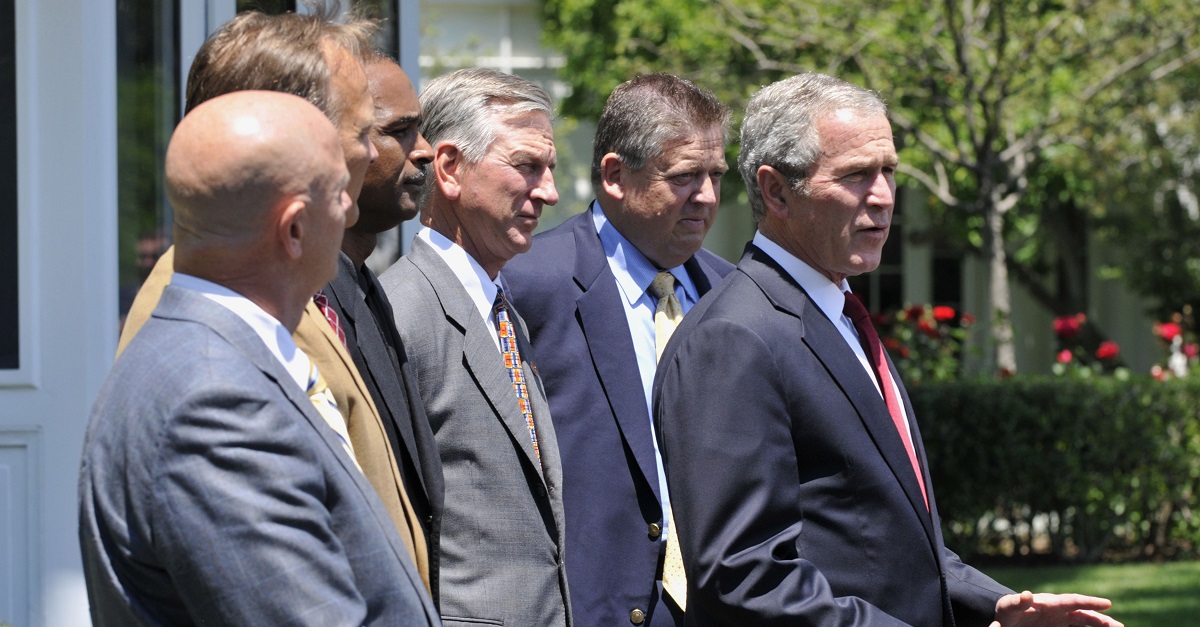 Ken Cedeno/Getty Images
WASHINGTON - MAY 26: (AFP OUT) U.S. President George W. Bush, speaks to the media as NCAA football coaches (L-R) Tommy Tuberville, from Auburn University, Mark Richt, from the University of Georgia, Randy Shannon, from the University of Miami, Jack Siedlecki, from Yale University and Charlie Weis, from the University of Notre Dame, listen during a media facility at the White House May 26, 2008 in Washington, DC. Bush welcomed the five university coaches to the Oval Office to thank them for going overseas to boost the morale of U.S. troops. (Photo by Ken Cedeno-Pool/Getty Images)
It looks like Tommy Tuberville could be done with coaching, but it doesn't look like he is quite done with leadership roles quite yet.
Related: NFL insider Peter King sees two destinations as making the most sense for Tony Romo
Rumors have been going around the past several weeks that Tuberville was considering making a run for the Governor of Alabama, which will be up for election in 2018. Those rumors seem to be more definitive now, as CBS Sports is reporting that Tuberville is expecting to make a decision on the political run in a week or two.
There is an ongoing statewide phone poll being conducted involving about 50,000 people that will sway him. In a week or two, Tuberville is likely to make a go or no-go decision.
Tuberville resigned as the head coach of Cincinnati at the end of the 2016 season, and the most success in his career came with the Tigers during a 10-season run between 1999 and 2008. The Tigers were 85-40 during his run, including a 13-0 season in 2004 where the Tigers were snubbed from the BCS National Championship Game.
If Tuberville does run, it appears that he would do so with the Republican Party, who CBS cites as trying to capitalize on the successful election of Donald Trump by getting more "celebrity"-like names running for public office. Tuberville isn't the first famous Auburn Tiger to publicly consider a run, as former NBA MVP Charles Barkley talked about the possibility of running for the same position several years ago.