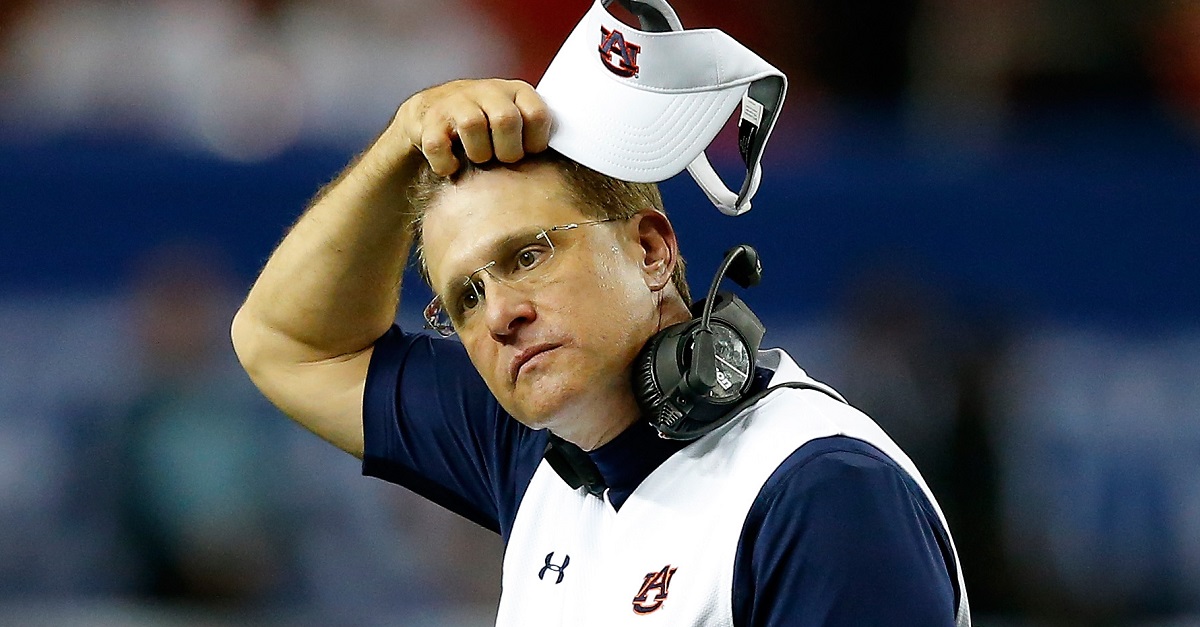 Kevin C. Cox/Getty Images
ATLANTA, GA - SEPTEMBER 05: Head coach Gus Malzahn of the Auburn Tigers looks on during the game against the Louisville Cardinals at Georgia Dome on September 5, 2015 in Atlanta, Georgia. (Photo by Kevin C. Cox/Getty Images)
Well this is one way to get straight to the point.
USA Today football analyst Danny Sheridan was on Paul Finebaum's show on Wednesday, and Sheridan made a bombastic statement on the future of Auburn head coach Gus Malzahn.
"If Gus Malzahn loses to Alabama he will be fired or go to Arkansas"
Well that's quite a statement.
Arkansas fired athletic director Jeff Long on Wednesday, with the prevailing rumors being that head football coach Bret Bielema will be on his way out as well. Malzahn, a former Arkansas player and assistant coach, has been a rumored candidate for that position if it were to open.
That all said, saying that Malzahn's fate lies all on the outcome of the Alabama game seems awkward. While Malzahn has been on and off the hot seat over the past two season, predicting that Auburn would potentially pull the trigger if Malzahn and the Tigers lose to an undefeated, No. 1 Alabama team? That would be a short-sighted decision, and one that wouldn't make too much sense for Auburn to make.
Sure, Malzahn could also jump to Arkansas, but that's also a bold statement considering that job is still currently occupied.
Auburn is currently 8-2 and ranked No. 6 in the College Football Playoff rankings. The Tigers have Louisiana-Monroe on the schedule before they play Alabama to close the regular season.