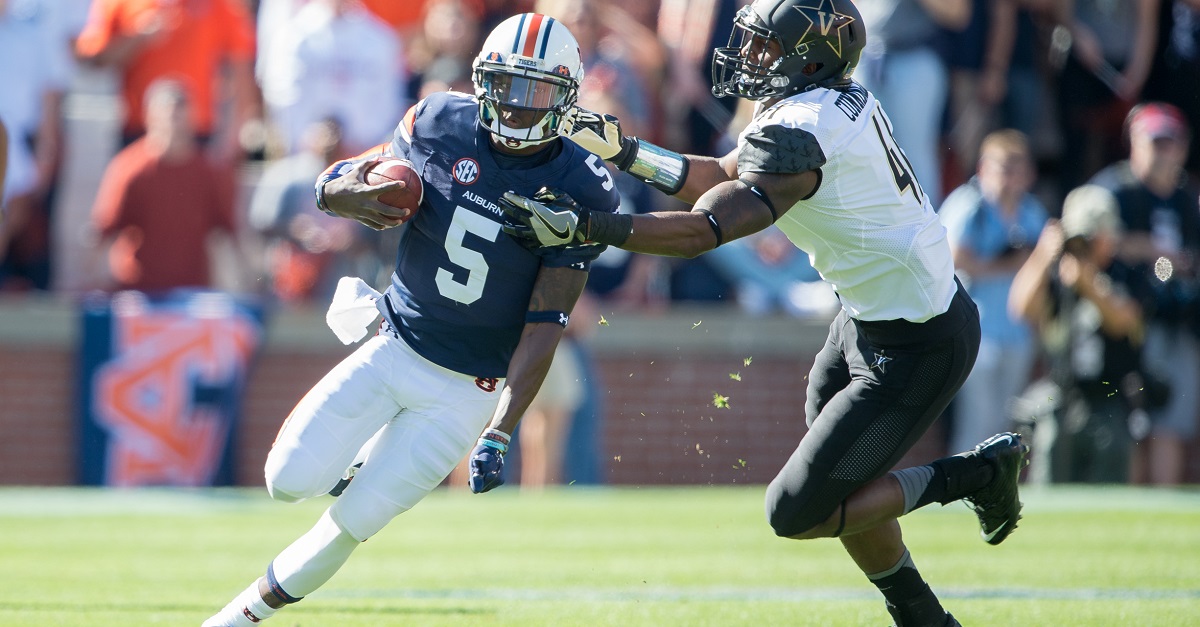 Michael Chang/Getty Images
AUBURN, AL - NOVEMBER 5: Quarterback John Franklin III #5 of the Auburn Tigers looks to maneuver by linebacker Zach Cunningham #41 of the Vanderbilt Commodores at Jordan-Hare Stadium on November 5, 2016 in Auburn, Alabama. (Photo by Michael Chang/Getty Images)
The John Franklin III hype train came to a screeching halt almost right after it took off.
The former Florida State quarterback came into the program and was expected to shake things up with a weak quarterback race. It seemed like Franklin had the talent to out-pace Sean White and Jeremy Johnson, and his ability to run the ball was expected to fit in perfectly with Gus Malzahn's offense.
Well, it didn't, and Franklin could potentially be on the move again.
From the War Eagle Extra:
"I'm going to decide at the end of the season and go with my family but right now my plans are to stay here for my fifth year," Franklin said after Auburn lost 30-12 in the Iron Bowl."I'll worry about that when the season is over with. I don't want to worry about that right now."
Related: South Carolina players accuse rivals of 'classless' act on the field
It looks like Franklin is on board for now, but that could easily change. The quarterback is on pace to graduate in the summer, which would then make him eligible to immediately transfer to any other FBS program without being forced to sit out a year.
What will be the deciding factor? It could be another transfer quarterback. Former Baylor QB and five-star recruit Jarrett Stidham has visited Auburn multiple times, and Stidham would conceivably take over the starting job at Auburn in 2017 if he picks the Tigers.
If Franklin finds himself behind White and Stidham for his final year, it might make sense for him to take one more shot with another program; no harm, no foul.