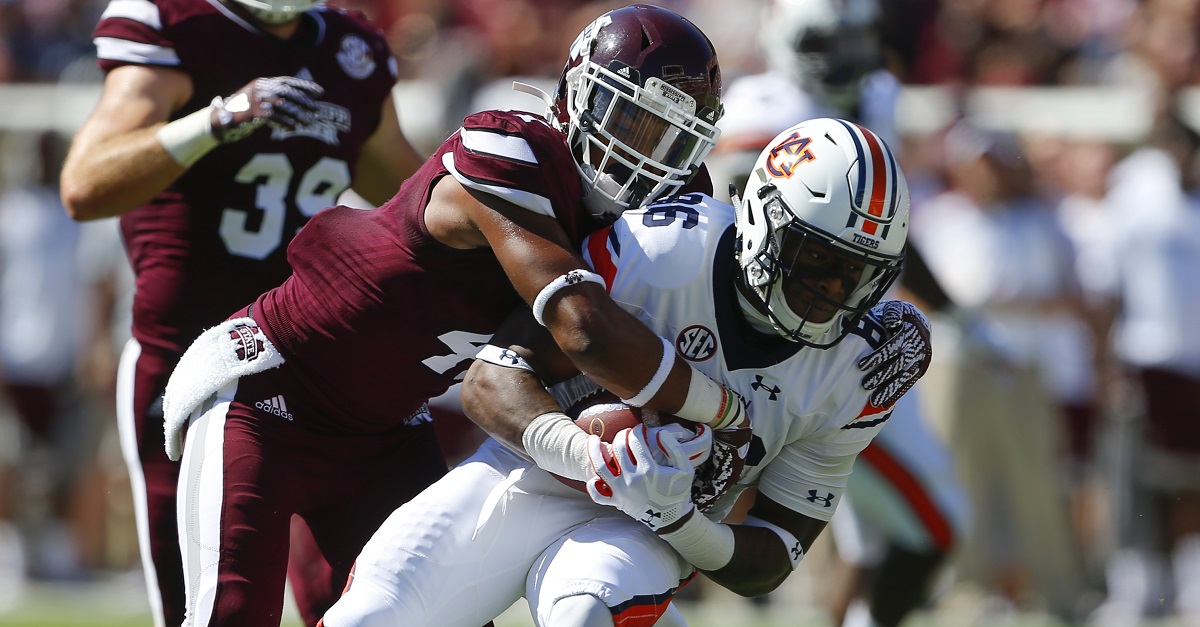 Butch Dill/Getty Images
STARKVILLE, MS - OCTOBER 8: Running back Kamryn Pettway #36 of the Auburn Tigers is tackled by linebacker Leo Lewis #44 of the Mississippi State Bulldogs as defensive back Kivon Coman #11 of the Mississippi State Bulldogs is upended during the first half of an NCAA college football game on Oct. 8, 2016 in Starkville, Mississippi. (Photo by Butch Dill/Getty Images)
Kamryn Pettway is no longer "the guy" in the backfield at Auburn, after Kerryon Johnson exploded on to the scene with a 1,300-yard performance for the Tigers in 2017. With that said, the junior from Montgomery managed to produce a 2016 season that included 1,224 rushing yards and seven touchdowns, which certainly explains why he would be a key figure on the Plains.
However, Pettway may not be on the Auburn roster for much longer, as reporting has emerged that he is "no longer welcome to any team activities" for Gus Malzahn's team.
It should be noted that the Tigers have not confirmed this type of falling out, however, though Malzahn did say publicly that Pettway did not accompany the team to the Peach Bowl in Atlanta with the caveat that he "stayed back with his family."
Pettway slid into a backup role, producing 305 yards on 76 carries to go along with six touchdowns this season. Still, it would certainly be big news if he was no longer on the Auburn roster in the coming days, leaving some unsettled business to take care of from an official standpoint.
This is certainly something to monitor but, for now, we know that Pettway won't be in Atlanta and may no longer be on the roster moving forward.