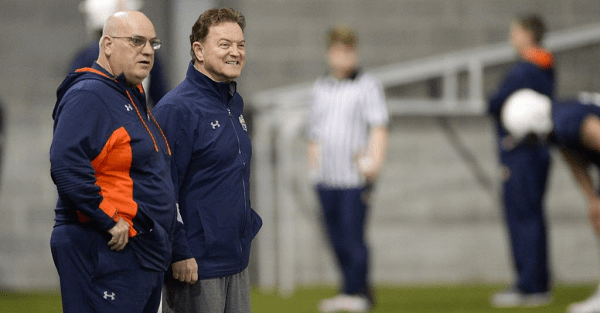 @Tomas_Verde/Twitter
@Tomas_Verde/Twitter
Assistant coach Al Borges had just started his second stint with the Auburn Tigers last season, but it looks like his decades of coaching experience will be leaving after only one year to head to a school that could probably use it a little more. University of Texas San Antonio head coach Frank Wilson announced on Friday that they had hired Borges to become their new offensive coordinator.
"I am thrilled to be able to announce the hiring of Al Borges as our new offensive coordinator. Al Borges has a masterful offensive mind and a coaching style that takes advantage of the talent and skillset of the players on the roster. His unique ability to develop quarterbacks is second to none. Our coaching staff got better today."
Borges is known for developing quarterbacks like Jason Campbell and Cade McNown, who both became first rounders in the NFL. Borges has spent time at California, Portland State, Boise State, Oregon, UCLA, Indiana, Auburn, San Diego State, San Jose State and Michigan as well as some time as a high school coach.
He has spent nearly 30 years in the FBS ranks and always as an offensive coordinator and/or quarterbacks coach at each of his stints. The only exception is this past season when he was an offensive analyst. Borges has been named as a Broyles Award finalist — the award given to the country's best assistant coach — twice in his career.
[h/t College Football Talk]