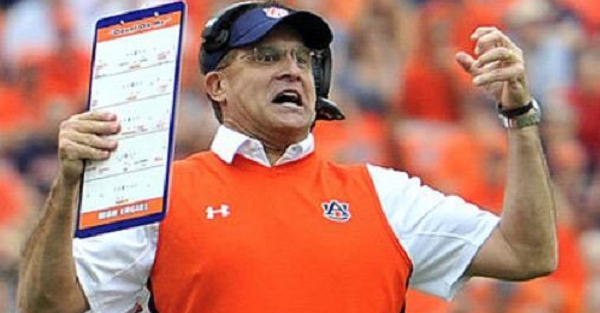 ESPN/Screenshot
Auburn's offense in their loss to No. 3 Clemson on Saturday wasn't pretty, and it looks like head coach Gus Malzahn is already making some small but significant changes.
Malzahn announced on Tuesday that offensive coordinator Chip Lindsey would be moving from the sidelines up into the coaches box for games going forward. Malzahn also said that offensive line coach Herb Hand would be coming down from the box to the sidelines.
Lindsey was hired as Auburn's offensive coordinator in the offseason, as Lindsey jumped from the same spot at Arizona State to take the job. Things looked swell in Auburn's Week 1 win over Georgia Southern, but after six points against Clemson, Auburn is now looking to make some changes as they prepare to take on FCS team Mercer on Saturday.
After that game, Auburn will get Missouri on the road, but Missouri just fired their defensive coordinator, so offensive problems in that game for Auburn would be a disaster. Moving the coordinator from the field to the to the box — or vice versa — is often seen as a panic move, but Auburn should legitimately have a couple of weeks to figure things out as Lindsey continues to get used to his new job.