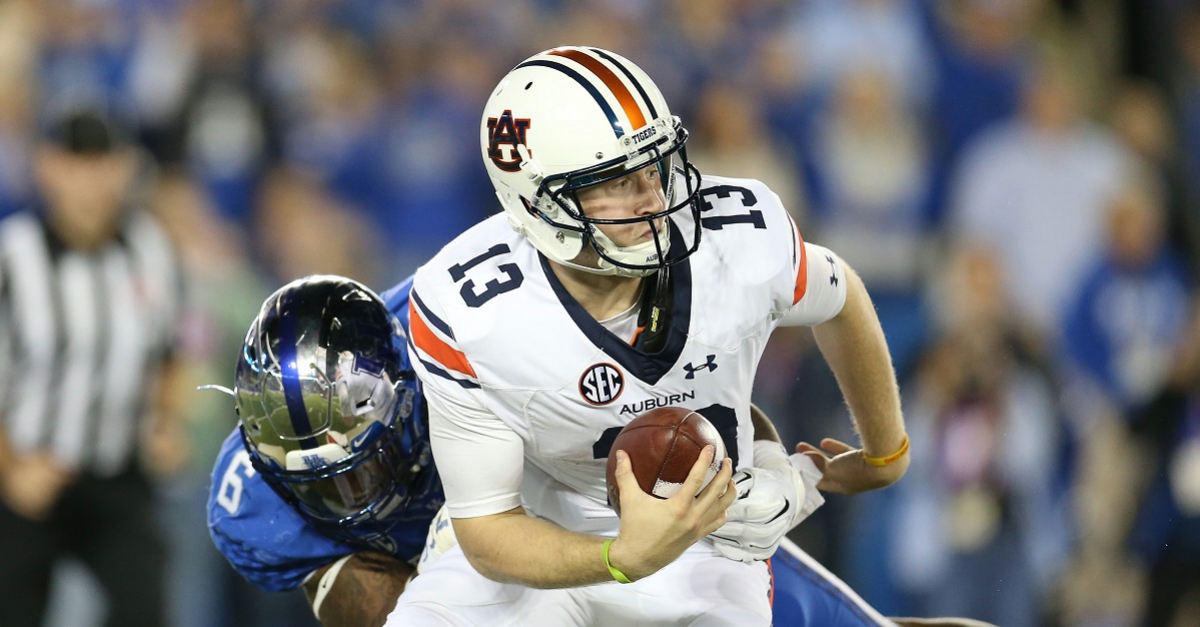 Getty Images
Generated by IJG JPEG Library
USA Today's Danny Sheridan made an appearance on the Paul Finebaum Show on Tuesday, and one of the biggest takeaways from his appearance is the decision that Auburn made at starting quarterback.
"I was counting on John Franklin III to be their dual-threat quarterback this year, much like [Nick] Marshall was," Sheridan said on the show. "With Franklin, I had them winning 10 games."
Even Finebaum had to let out an exclamation at that one. "10 games, are you kidding?" Sheridan didn't back down, and he defended why he thought that way.
""With Franklin starting, I thought he was going to be that good. And again, I said the same thing when Nick Marshall was the quarterback, and Cam Newton, because I was told how great those two athletes were at the quarterback position. Well, I thought Franklin would do it."
RELATED: Auburn starting DB arrested, facing gun charges
There is still a good chance that Franklin plays this year, as Auburn still lists him as the "co-backup" with Jeremy Johnson. Franklin's dual-threat abilities also mean he can be used in situational formations without compromising Sean White as the starter if they want to do that.
Still, Sheridan predicted Auburn to be the underdog in six of their games this season. Thinking that Franklin is enough to battle that schedule and win 10 games for the Tigers is definitely a bold decision after last year's 2-6 debacle in SEC play.
Auburn can definitely improve on last year; a full-season with a healthy starting QB and a healthy Carl Lawson on defense will do a lot to improve them in terms of quality. However, Auburn has one of the most difficult schedules in the country. They play Clemson, LSU, and Alabama, who comprise three-fifths of the AP's preseason Top 5. They also have difficult matchups at Georgia and at Ole Miss; even a really good team might be lucky to go 8-4 with that schedule.
I guess we will have to wait and see. There will be a lot learned in Auburn's opener against Clemson, and if Franklin is actually the real-deal, then he will emerge as the starter eventually. If not, then it looks like the Sean White era on the Plains.
[H/T Saturday Down South]