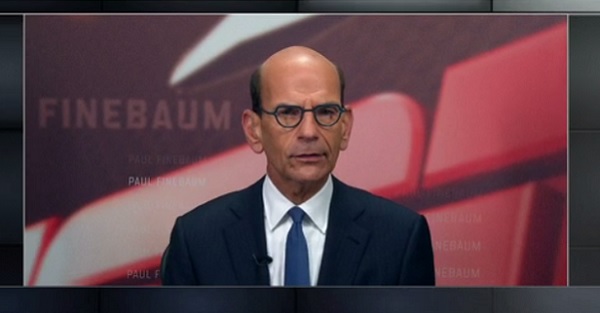 Screenshot/Twitter
Following a stunning loss to LSU, real buzz emerged that Gus Malzahn could be entering "hot seat" territory as the head coach at Auburn. That result was followed up by a fairly dominant win over Arkansas this week, quieting the screams a bit, but ESPN's Paul Finebaum added a bit of fuel to the fire on Monday morning.
Finebaum appeared on WJOX's The Opening Drive in Birmingham and, in short, he posited that Malzahn could look to fly the coop in favor of the job… at Arkansas. (h/t SEC Country)
"Yes, I do. Let's assume Gus Malzahn survives this season. He's either going to have Jay Jacobs as his boss– someone with whom he doesn't speak– or he's going to have a new boss who has no vested interest or investment in him. So, if given the opportunity to go home where he can escape Auburn and escape the immediate shadow of Nick Saban– now, listen, you still play Saban at Arkansas– but the expectations at Arkansas are 'Have an 8-4 season, maybe win your bowl game and we'll throw you a parade.' At Auburn, 8-4 gets you fired."
It would be remarkable for Malzahn to jump ship at Auburn if he wasn't fired and this also assumes that the Razorbacks would be moving on from Bret Bielema. Of course, that is a lot of moving parts to navigate, but the general sentiment is quite interesting.
In some ways, Finebaum's sentiment makes sense in that expectations are certainly lower in Fayetteville and Malzahn has ties to the state in a big way. Still, it would certainly be aggressive to see a sitting coach at Auburn bolt for Arkansas and Finebaum's reputation as someone who stirs things up may be a factor here.