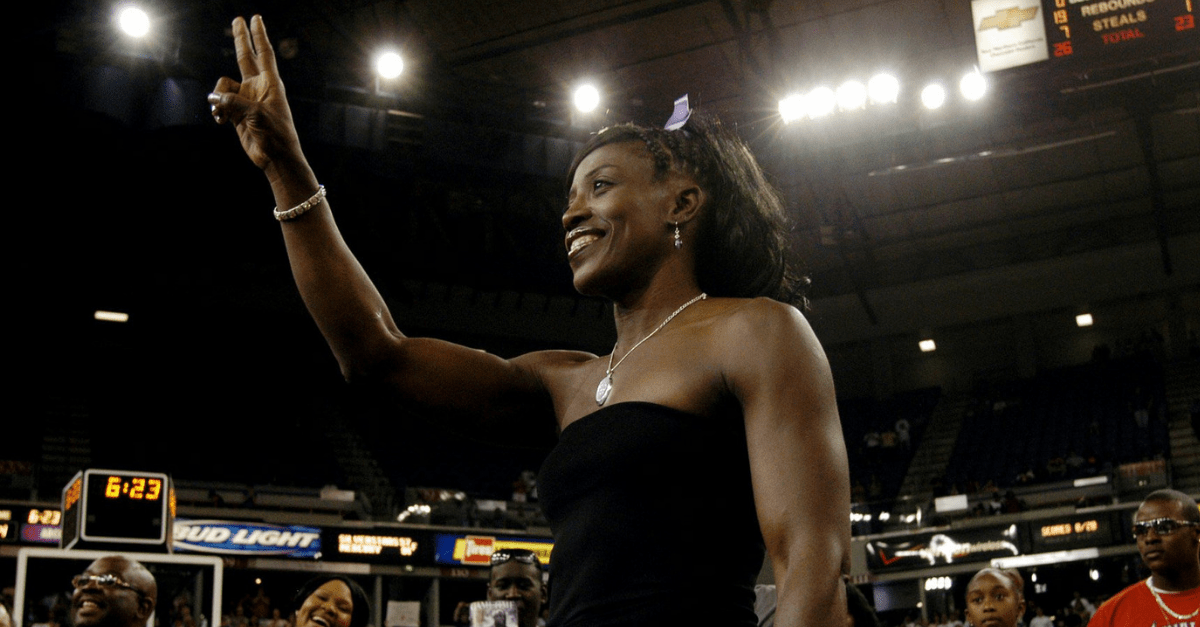 AP Photo/Max Whittaker
Who has been the most influential athlete at Auburn University over the last 40 years? The list, for many fans, would probably start with former quarterback Cam Newton, but women's basketball star Ruthie Bolton shouldn't be far behind.
Born and raised in Mississippi, Bolton led the Auburn Tigers women's basketball team in the late 1990s before enjoying a great professional career, including multiple Olympic gold medals and as a two-time WNBA All-Star.
However, Bolton is not only known for her great basketball talent, but for everything she did once she left the game.
RELATED: Cam Newton's 2010 Heisman Season Was Simply Incredible
Ruthie Bolton was one of 20 children to Leola and Linwood Bolden. Her older sister, MaeOla Bolton, also played for the Tigers' basketball team. Needless to say, the Bolton family made a huge difference in the program.
In Ruthie Bolton's four seasons on the Auburn, Alabama campus, the Tigers had a record of 119-13 and made the NCAA Tournament every year. Auburn also won the Southeastern Conference championship three times and earned two Final Four appearances.
For her efforts, Bolton earned All-Final Four honors as a junior and was a Second-Team All-SEC selection as a senior in 1989.
The World Stage
After leaving Auburn as one of the best players in the collegiate game, Bolton had to go overseas to continue playing since there was no American professional basketball league for women at the time.She spent six seasons playing in Sweden, Hungary, Italy, and Turkey until 1996.
Although she was playing out of the country, she was able to make the United States National Team in 1994 for the FIBA World Championships after missing out in 1992. She was a part of team USA Basketball in the World University Games in 1991, leading the team in scoring at 13 points per game en route to a gold medal.
It was her first, but not her last.
In her first appearance on the United States National Team in  1994, Bolton was a key player that went on to win the bronze medal after losing to Brazil and then beating Australia in the third-place game.
Bolton earned a spot on the Olympic team in 1996 in Atlanta. She averaged 12.8 points and nearly three steals per game to help her team win the Olympic gold medal. Two years later, she would once again play as part of the national team in the FIBA World Championships.
Despite only winning the bronze medal in 1994, Bolton was a huge reason for taking home the gold four years later. In both the semifinal against Brazil and finals against Russia, Bolton had huge 3-pointers to help lead comebacks, including two in the final two minutes of the game for gold against Russia.
Her final appearance as part of the Women's National Team came in the 2000 Sydney Olympic Games when she averaged five points per game to once again be named an Olympic Gold Medalist.
WNBA Pioneer
After winning a gold medal in the 1996 Olympics, the Women's National Basketball Association was formed to create professional women's basketball in the United States finally. In 1997, when the league started, Bolton joined the Sacramento Monarchs.
She quickly became the face of the franchise and was twice selected as an All-Star and member of the All-WNBA First Team. She would play in the WNBA for seven seasons, including after suffering a career-threatening knee injury in 1998. Her playing career would end in 2004, which was 15 years after she left Auburn.
Her No. 6 was retired by the Monarchs in 2005, but that was just the beginning of the honors she would receive.
In 2011, Bolton was inducted into the Women's Basketball Hall of Fame in Knoxville, Tennessee. She was also inducted into the Alabama Sports Hall of Fame and Mississippi Sports Hall of Fame in 2014.
Life Away from Basketball
Ruthie Bolton was always more than a basketball player. Upon graduating from Auburn, she joined the Army Reserve and was a second lieutenant until 2000.
Once she finished her basketball career as a player, she began coaching at William Jessup University in Rocklin, California. Although she stepped down from the head coaching position, she still helps younger players develop their basketball skills.
However, Bolton is doing way more than coaching and teaching basketball. She has a foundation for helping teenagers realize their potential on and off the court. She has been a part of basketball clinics all over the world and even participates in clinics with the Golden State Warriors.
She did get married in 1991 to Mark Holifield, though that marriage did end with accusations of domestic violence and Bolton filing for divorce in 2002.
Ruthie Bolton's Greatness
When searching for what a university wants to be represented by, Ruthie Bolton is the perfect example. She was not only a great athlete and student as a Tiger, but did everything she could to continue playing the sport she loved, even when there wasn't a league in the country.
She expanded her life beyond the basketball court and has dedicated her life to helping the youth around her and around the world be better people and basketball players.
If every single person was just a little more like Mighty Ruthie, this world would be a much better place.
That is why the Tigers should make sure everyone know more about her and build her statue outside Auburn Arena.