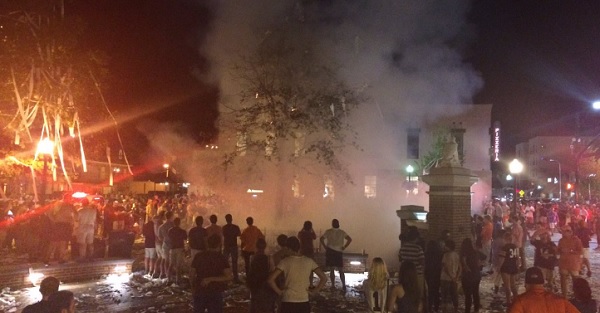 Twitter/Sam Butler
UPDATE:The suspect has been identified as 29-year old Jochen Wiest.
Original story below
---
The trees at Toomer's Corner in Auburn were just declared healthy enough earlier this year for the school's tradition of rolling the trees after football games.
Well it looks like someone wasn't happy with that, as an unidentified man set fire to one of the trees after Auburn's big win over LSU on Saturday night.
Video later emerged of a potential suspect running away from the trees after the fire was lit.
According to Elizabeth White of WTVM, a suspect is in custody and Auburn police are waiting to assess damage to the trees before they determine any potential charges. The suspect in question is reportedly from Auburn, but is not affiliated with the University.