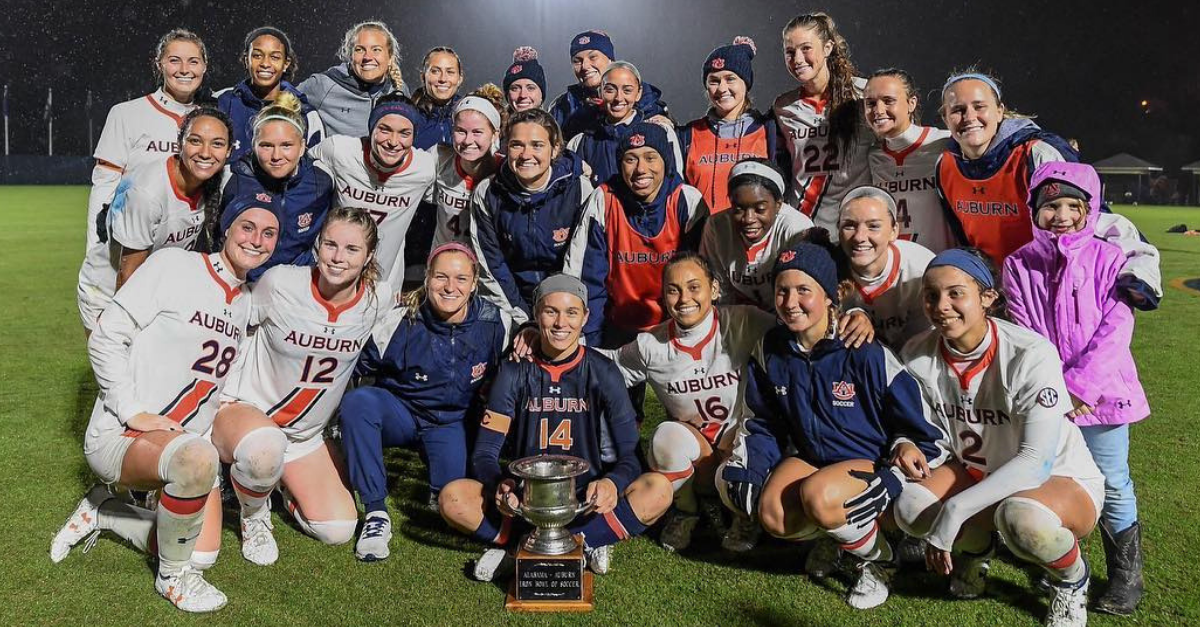 Instagram: auburnsoccer
Instagram: auburnsoccer
To say the Auburn Tigers (12-5-1, 4-5-1) soccer team's backs were against the wall coming into the last game of the regular season against Alabama would be an understatement. The Tigers, who had dropped their last two games, needed this victory against their rival in order to make the SEC Tournament, and they got it.
Auburn defeated Alabama by the final score of 2-1. This was the sixth straight victory the Tigers have had over the Tide, and it's their 11th win in the last 12 meetings.
Auburn head coach Karen Hoppa talked about the importance of beating Alabama and the rivalry.
"The rivalry is just incredible," Hoppa said. "It's always a tough game, and it's a big win. Bigger than even the rivalry, it secures postseason for us from a SEC Tournament standpoint and puts us in great position for the NCAA Tournament, too."
Auburn was lead by Gianna Montini who got the Tigers on the scoreboard early as they took a 1-0 lead. First-team All-SEC midfielder Bri Folds' penalty kick in the 83rd minute was the difference in the game, and her score tied an Auburn school record with her sixth game-winning goal of the season.
Once the Tigers got their goals, it was their defense that kept Alabama in check most of the game.
Goalkeeper Sarah Le Beau credits her teammates for their efforts on defense too.
"It was overall team defense," Le Beau said. "We had to pay attention to the details since the weather conditions weren't the greatest. We just had our bodies behind the ball and make sure our clearers were over their line."
With this victory, the Tigers earned the 9th seed in the SEC tournament, and facing the 8th-seeded Florida Gators (6-9-3, 4-4-2) on Sunday afternoon, lost 2-1 in penalty kicks after drawing in regulation by the score of 1-1.
Following the loss, Auburn will now await their fate when the seeds are selected for the NCAA tournament on November 5, but Hoppa knows that these last two games would set up Auburn for another strong start to the national tournament.
"We'll obviously learn from this," Hoppa said following the loss to Florida. "It's definitely great experience going into NCAAs. We're going to learn from this game and get ready for our first round NCAA game, wherever and whoever that may be."