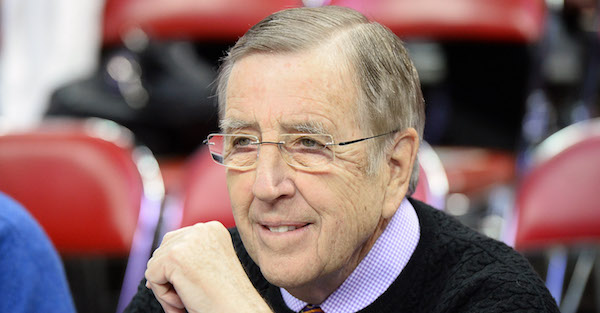 Ethan Miller/Getty Images
LAS VEGAS, NV - FEBRUARY 19: Sportscaster Brent Musburger appears before a game between the New Mexico Lobos and the UNLV Rebels at the Thomas & Mack Center on February 19, 2014 in Las Vegas, Nevada. New Mexico won 68-56. (Photo by Ethan Miller/Getty Images)
Legendary sports broadcaster Brent Musburger spoke with SEC Country about a multitude of topics — even including his high praise for a rising Kentucky Wildcat program — but he also made an interesting prediction about the World's Largest Outdoor Cocktail Party: the winner of that Georgia vs. Florida match-up will decide the SEC East this fall.
Via SEC Country:
"He also told SEC Country that the winner of the Florida-Georgia game on Oct. 28 will represent the SEC East in Atlanta."
This is an interesting thought, as both Georgia and Florida were both pegged with an over/under of eight wins this season, highest in the SEC East. It wouldn't be a shocker for this fall game in Jacksonville, FL. to end up being super important by December.
Still, the SEC East figures to be more well-rounded this year, with Tennessee likely taking a step back, and Kentucky, Missouri and Vanderbilt all likely taking a step forward.
Nonetheless, it figures to be a very fun, interesting year in the SEC.