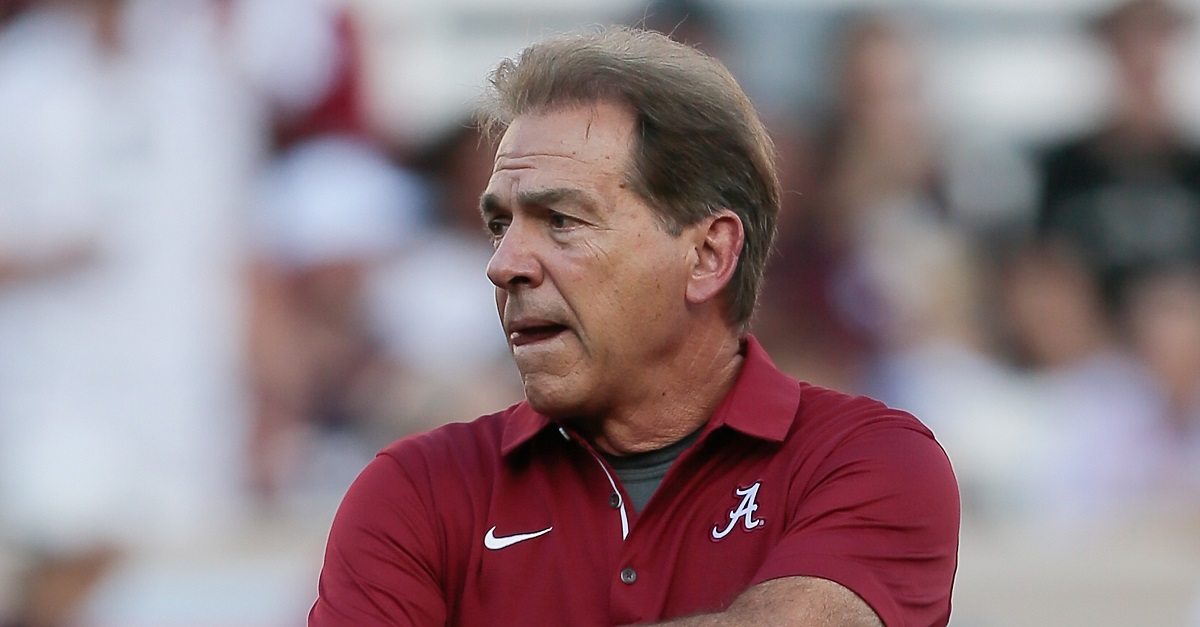 Bob Levey/Getty Images
COLLEGE STATION, TX - OCTOBER 07: Head coach Nick Saban of the Alabama Crimson Tide looks on during pre-game warmups before playing the Texas A&M Aggies at Kyle Field on October 7, 2017 in College Station, Texas. (Photo by Bob Levey/Getty Images)
The college football season is fantastic for producing all kinds of debate. Because schedules for various contenders are often (very) different, nuance and "the eye test" are required to draw conclusions and, ultimately, the fate of a few programs rests in the hands of the College Football Playoff Committee.
At the moment, that committee sees Georgia and Alabama as the two best teams in the country but CBS analyst Gary Danielson has one central question about both SEC programs. In speaking with WNSP 105.5 on Wednesday (per AL.com), Danielson took the programs to task on the schedule they've navigated thus far.
"The only question I have about both teams is their schedule. The SEC East is just a hot mess. If you look at Georgia's schedule closely, you got Notre Dame and who else? The same for Alabama."
This is definitely not the first time that Alabama's schedule has been questioned, especially given the way that the marquee non-conference opponent for the Tide (Florida State) has fallen off a cliff. Still, Georgia's resume hasn't really been in question because of the road win at Notre Dame and this kind of take is interesting as a result.
Ultimately, the winner of the SEC (provided it is Georgia or Alabama with 0 or 1 losses) will likely have no trouble getting into the four-team field but let Gary Danielson's thoughts provide some background that not everyone is sold… yet.