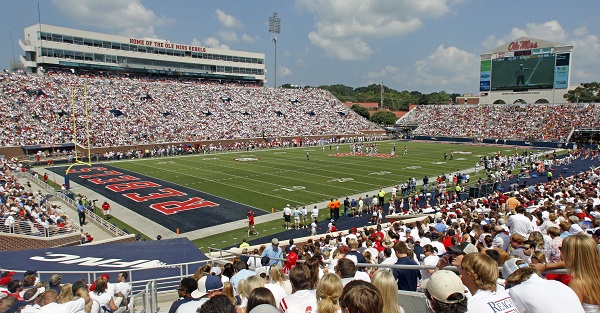 Butch Dill/Getty Images
OXFORD, MS - SEPTEMBER 05: A general view of the field during the NCAA football game between the Mississippi Rebels and the Tennessee Martin Skyhawks in the second quarter at Vaught-Hemingway Stadium on September 5, 2015 in Oxford, Mississippi. (Photo by Butch Dill/Getty Images)
The Ole Miss football program is in disarray on the heels of the Hugh Freeze scandal and that (still) has to be at the forefront of any discussion surrounding that situation in Oxford. However, athletic director Ross Bjork may not be the pariah that some might think and Dan Wolken of USA Today wrote this week that Bjork could make some sense at Nebraska with that athletic department's vacant spot at the top.
Shawn Eichorst was fired in September as the Nebraska AD and, while there is a ton of speculation as to who might replace him, this is what Wolken had to say:
One candidate multiple industry insiders have pointed to as a target with interest from Nebraska is Ole Miss athletics director Ross Bjork, who grew up and went to college nearby in Kansas and is one of the superstar fundraisers in the business.

Were it not for his current program going through a lengthy NCAA enforcement process that uncovered 21 alleged football violations, 15 of which were of the most serious Level 1 variety, and a lack of institutional control charge, he would be a slam dunk for the job.

Bjork, however, didn?t hire Hugh Freeze at Ole Miss, and it?s widely known that the support to keep Freeze until his phone records revealed phone calls to sexually suggestive businesses came from above Bjork?s head. He remains highly respected in the industry and understands the public relations side of the job, completely opposite of the way Eichorst operated.
Because Bjork did not hire Freeze and could potentially avoid the stink of that situation to some degree, it makes sense that he could bounce back in a hurry. It would seemingly be wise for Bjork to look for the exit, especially if it came with a top-tier job like Nebraska, but in the same breath a hire like this from the Cornhuskers would be risky given the immediate history of the situation.
For now Ross Bjork remains in Oxford, but this is very interesting information to file away for the future.