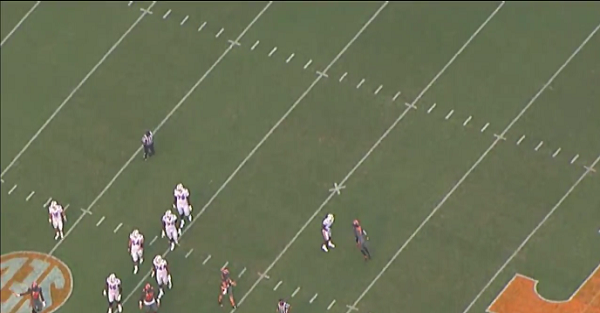 Clippit/bbornstein33
The Florida Gators are going through a complete meltdown in the second half of the game against Tennessee. They had a total of eight yards in the third quarter and have allowed the Vols to take a 31-21 lead in the fourth quarter. Things have gotten worse though as receiver Brandon Powell has been ejected for what is possibly the weakest call on the planet.
RELATED: Tennessee will be without Jalen Reeves-Maybin for the rest of the UF game
Brandon Powell is understandably frustrated, but when the refs say he threw a punch they clearly did not see the play. A Tennessee defender clearly flopped — who is he? Manu Ginobili? — and the refs were clearly not watching the play as they gave Powell an ejection for tapping a guy's helmet.
This is absolutely sickening for Florida fans and was not the way they wanted to see the game end. That could effectively suspend Powell for the first half of the next game, but the SEC office will have to review the play to see if it holds up.