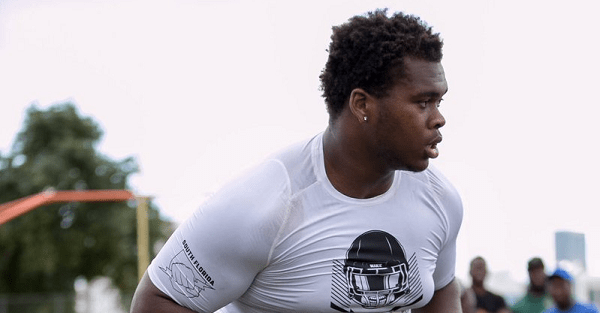 @E_Neal73/Twitter
@E_Neal73/Twitter
Four-star offensive guard Evan Neal is possibly the biggest recruit in the state of Florida, if not the country. The 6-foot-7, 390-pound guard out of IMG Academy recently spoke with 247Sports about the schools he's looking at and he clearly likes the state he's in.
?I?m from Florida you know, I like all the Florida schools,? Neal said.
He has different reasons for liking each school as he has a connection with FSU's Willie Taggart since he gave him his first offer while the coach was still at USF. He believes Florida coach Dan Mullen is a good guy and his family grew up Miami fans so there's an obvious connection there.
Neal is ranked as the No. 2 recruit at his position and No. 6 recruit in the state as well as the No. 38 overall recruit in the country according to the 247Sports Composite rankings. He also has offers from Alabama, Georgia, Oklahoma, Arkansas, Auburn, LSU and Michigan among others.
Here are some of his highlights: