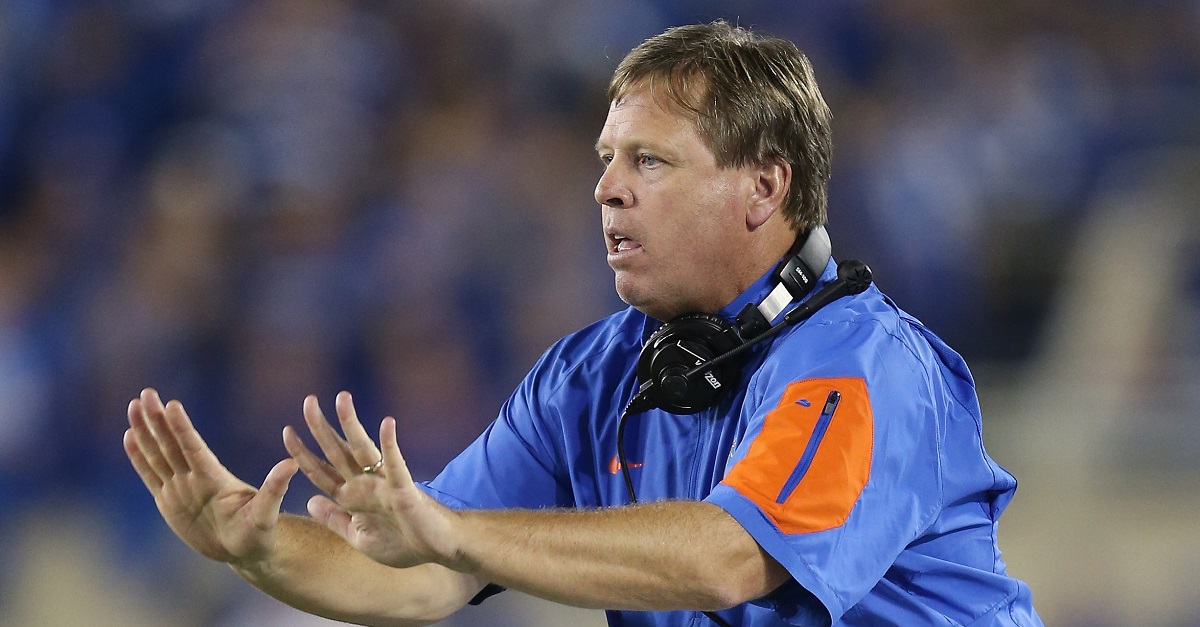 Andy Lyons/Getty Images
LEXINGTON, KY - SEPTEMBER 19: Jim McElwain the head coach of the Florida Gators gives instructions to his team against the Kentucky Wildcats at Commonwealth Stadium on September 19, 2015 in Lexington, Kentucky. (Photo by Andy Lyons/Getty Images)
The odds of Florida's next head coach have once again shifted.
UCF coach Scott Frost is now the odds on favorite to coach the Gators next season at -130, while the previous favorite, Mississippi State coach Dan Mullen, has dropped from +350 to +450, according to BetOnline.Ag.
Frost was listed second with +700 odds as of Tuesday, which was tied with Memphis coach Mike Norvell, who improved to +500 odds.
The UCF coach has already made ties within the state of Florida while improving the Knights during the past two seasons. Frost inherited a winless team upon taking over in 2016 and led Central Florida to a bowl game appearance during his first season, as well as an undefeated record in his first seven games in 2017.
Mullen worked as an offensive coordinator and quarterbacks coach at Florida from 2005-08, which included winning two national championships and coaching Tim Tebow during his Heisman Trophy season. He currently holds a 67-44 (32-37 SEC) head coaching record and has led the Bulldogs to seven consecutive winning seasons.
In 2010, Mississippi State earned its first No. 1 overall ranking in program history and finished with a 10-3 (6-2 SEC) overall record, earning Mullen several coaching honors including the AP and Athlon SEC Coach of the Year awards and the Maxwell Football Club Coach of the Year award.
This surely won't be the last time the odds shift before Florida ultimately makes its hire, which should provide plenty of intrigue in the coming weeks.