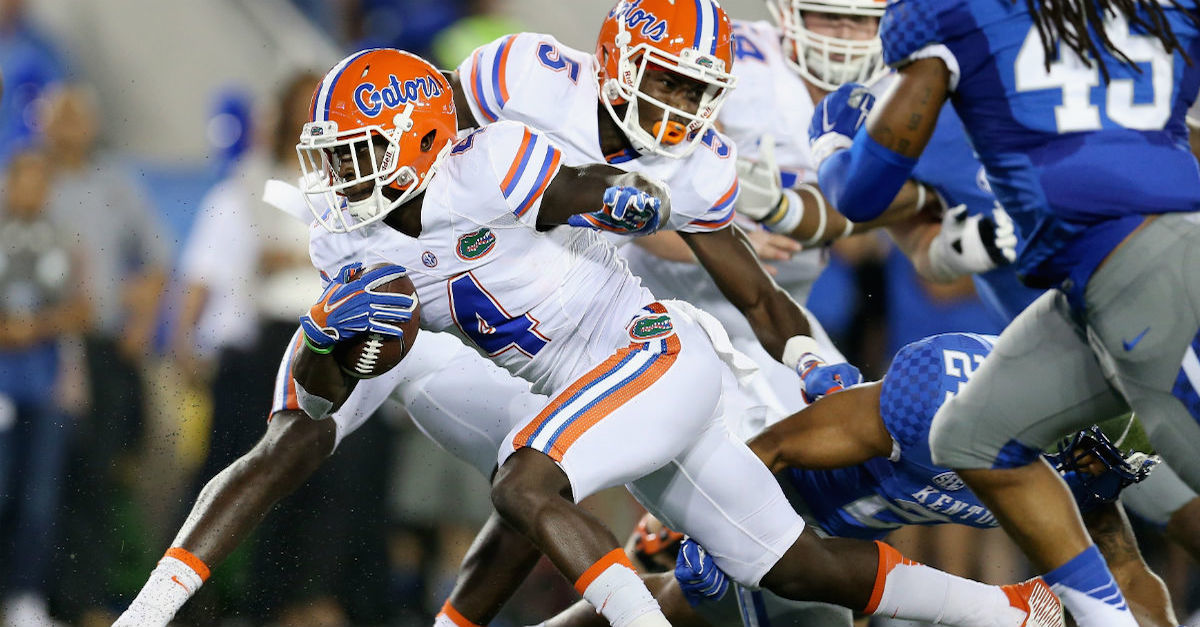 Before the 2015 season began, there were numerous talks about who were contenders and pretenders inside the SEC East. Florida was expected to be "in the mix" but not good enough to be picked to make it to Atlanta. In fact, the media preseason poll during SEC Media Days in July had Florida finishing fifth in the East – behind Georgia, Tennessee, Missouri and South Carolina.
Fast forward to Week 4 in college football, and Florida (3-0) looks, surprisingly, like one of the better teams in the division. Along with Georgia (3-0) of course. Tennessee who had its highest ceiling in years under year three for Butch Jones, has been relatively underwhelming — they let Bowling Green keep it close until the fourth quarter in their opener. Next they welcomed then-No. 15 Oklahoma to Neyland Stadium and had a comfortable 17-3 lead at halftime, but they let the Sooners storm back and tie things up in the fourth, and then dropped the game in overtime.
Missouri (3-0) is looking to reach Atlanta for the third time in three years, but they've had some questionably close games the last two weeks, beating Arkansas State by only a touchdown in Week 2, and putting on an abysmal offensive display against Connecticut at home last week. The Tigers were down 6-2 until they found the end zone late in the third quarter to seal an ugly 9-6 victory.
South Carolina (1-2) let Kentucky overcome a 22-road game losing streak and got beat 26-22 at home in Week 2, and then got flat-out embarrassed by Georgia 52-20 last week.
And then there's Florida, who trounced New Mexico State in its season opener by 48 points. They looked a little shaky against East Carolina in Week 2, with their largest lead being only two touchdowns, which the Pirates cut to just one in the fourth quarter. They got the win over ECU, but questions lingered about their chances against Kentucky on the road. They had beaten the Cats 28 times before, but had to go into triple overtime to defeat a year ago.
The Gators went into a fired up Commonwealth Stadium and defeated the Cats for the 29th straight time — highlighted by redshirt freshman quarterback Will Grier making the first downs and plays that he had to. His last touchdown drive kept the Cats at bay, and Florida's defense killed any momentum Kentucky seemed to get on offense.
What does this all mean, you're thinking? Essentially, as we enter Week 4 of the season, Florida actually looks like one of the better teams in the East — along with Georgia, of course.
So here we are, as Florida gets set to take on Tennessee — a team they've beaten every year since 2005 — in front of a rabid Ben Hill Griffin Stadium. Florida opened as a 3-point favorite per Vegas Insider on Monday morning, and it's already down to two points. Florida has a nasty defense, but Tennessee brings a loaded offense with them to Gainesville. Meanwhile Florida's offense, which has yet to name a clear-cut starting quarterback, has a ton of youth — but it's got some impressively talented freshmen within that inexperience.
It's a long season, as we all know in college football, but if Florida wants to prove it has a legit shot at winning the SEC East come December, that starts first with this critical game against Tennessee on Saturday afternoon. It may sound crazy now, but if Florida comes out firing on all cylinders against the Vols and earn a victory, we might be saying "Why not Florida?" to make it to Atlanta.