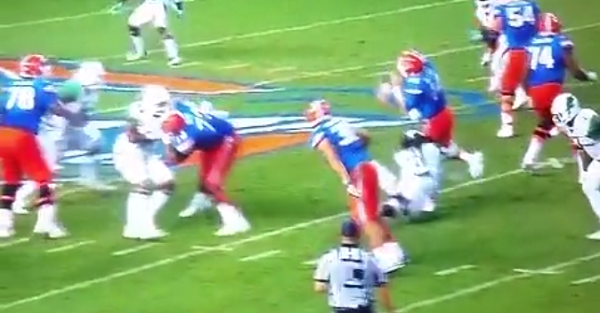 Vine/SEC Mike
Florida's offense has been less than stellar against North Texas, but the other side of the ball has been phenomenal not allowing any points and less than 50 yards of total offense (so far). However, it wouldn't be a Gator game without some sort of bad news. Starting quarterback Luke Del Rio was knocked out of the game because of what looked like a dirty hit from a North Texas defender.
RELATED: Florida starts the game off vs UNT with its first safety since 2013
Here's the hit that knocked out Del Rio so you make the call on whether it's a dirty hit or not:
Whether it was clean or not, it did not make coach Jim McElwain very happy and he let the UNT sideline know it. He came across the field and was yelling at their bench and had to be restrained by other coaches he was so furious. The next play after the injury saw offensive lineman Joey Ivey ejected for what the officials perceived to be a punch:
Fortunately, that will not affect his ability to play next week against rival Tennessee:
If Del Rio is not able to play next week, then having Ivey along the line would go a long way to helping out backup QB Austin Appleby.