Ever since 2013, Florida has been asking celebrity alumni and former athletes to don the Mr. Two Bits outfit and lead the crowd in the classic cheer. "Two bits, four bits, six bits, a dollar!" has been ringing throughout the Swamp since 1949 with a short break from 2008 to 2013 when George Edmundson —- the man known as Mr. Two Bits —- retired.
RELATED: Florida announces honorary Mr. Two Bits for Tennessee game
Former Gator athletes like Lito Sheppard, Dominique Easley and Chris DiMarco have returned to campus to perform the chant and cheer for fans before games. Now one of the most famous former players and coaches will don the orange and blue tie to lead the fans and Florida faithful in the cheer.
RELATED: Steve Spurrier given official title within Florida's Athletic Department
Heisman winner and National Championship-winning coach Steve Spurrier will become the honorary Mr. Two Bits to start the season against UMass on Saturday. Spurrier was asked about how he might add some flair and gave an answer only Spurrier could.
"Sure, I'll do a little something," Spurrier said. "I may have to wind it up like I did when Terry Jackson scored his touchdown against FSU [in the national championship game]."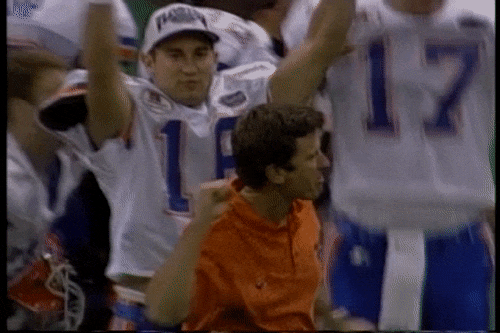 I'm good with it. I'm sure Florida fans won't mind either.
[h/t floridagators.com]
Want More Sports News?
Get the biggest and best sports news sent directly to your inbox.