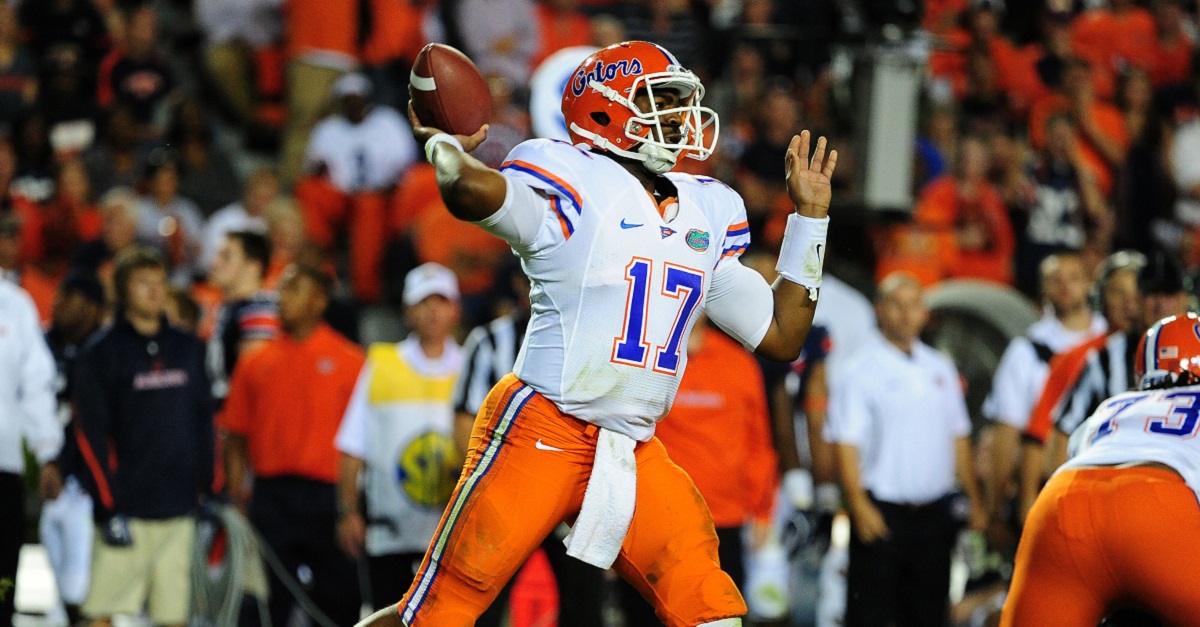 Scott Cunningham/Getty Images
AUBURN, AL - OCTOBER 15: Jacoby Brissett #17 of the Florida Gators passes against the Auburn Tigers at Jordan-Hare Stadium on October 15, 2011 in Auburn, Alabama. Photo by Scott Cunningham/Getty Images)
While he never got to become a full-time starter at Florida, quarterback Jacoby Brissett did leave us with some good memories. He took over for Jeff Driskel in the Louisiana-Lafayette game when Driskel got injured and led the team from a 20-13 deficit to a 27-20 win. He also started the following week against Jacksonville State in a 23-0 win.
RELATED: Results are in on Jimmy Garappolo's shoulder, and it's not good
Brissett rushed for three touchdowns while passing for another three touchdowns in his time at Florida. Some people believe he never got a proper chance to earn the starting job because Driskel was the higher-rated quarterback and coach Will Muschamp just wouldn't play Brissett because he wasn't as athletic as Driskel. Well, Driskel would graduate and transfer to Louisiana Tech after some frustrating seasons at Florida making way for Treon Harris and Will Grier to battle as the starting QB.
Brissett ended up transferring to N.C. State where he would become the starter for the last years of his collegiate career and he played well enough to be taken in the third round by the New England Patriots. Now he gets to start for the storied franchise in his rookie season because of Tom Brady's suspension and Jimmy Garoppolo's shoulder injury. The former Dwyer High School standout went 6-of-9 for 92 yards in the Patriot's 31-24 win over Miami on Sunday.
RELATED: Patriots are scrambling after starting QB Jimmy Garoppolo has been knocked out of the game
He will make his first career start in the NFL on a short week of preparation against the Houston Texans on Thursday Night Football. He'll be staring down the barrel of a gun that is a defense led by J.J. Watt and Jadeveon Clowney that's been holding teams to 274.5 total yards per game. He'll have the help of Julian Edelman, Martellus Bennett, Danny Amendola and LaGarrette Blount on his side though so he shouldn't be too worried about a loss. He's playing with house money at this point so just let it fly.