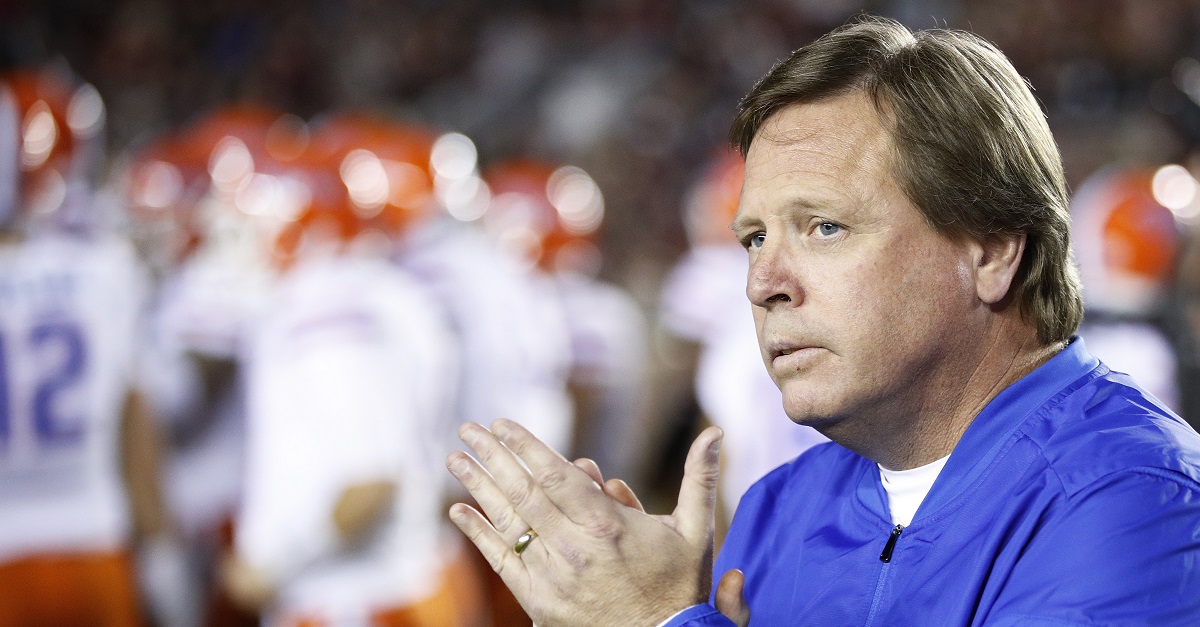 Joe Robbins/Getty Images
TALLAHASSEE, FL - NOVEMBER 26: Florida Gators head coach Jim McElwain looks on before the game against the Florida State Seminoles at Doak Campbell Stadium on November 26, 2016 in Tallahassee, Florida. (Photo by Joe Robbins/Getty Images)
Florida has been in a precarious position all summer as its quarterback play has become the main focus of the offense and the team in general. The Gators have good-to-great running backs and receivers, but they have not had a good QB to sling it around to them. That's why the battle between Notre Dame transfer Malik Zaire and redshirt freshman Feleipe Franks has been one that people are keeping an eye on.
RELATED: Tim Tebow names his favorite to win Florida's QB competition
Former Alabama quarterback and national champion Greg McElroy thinks he may know who will win the competition before the big game against Michigan. He was on the Finebaum Show to discuss the QB landscape in the SEC and talked about who he thinks will ultimately win the starting job.
He said that if the Gators are going purely off ceiling and potential then Franks was the guy, but if they go for more stability, Zaire is their man. McElroy also mentioned that Franks was the clear-cut leader at the end of spring because of his play in the spring game as well as what he did in camp up to that point.
However, most people believe Zaire will start because he's a graduate transfer and you don't generally bring one in if he isn't going to start or see significant playing time. Only time will tell as the Gators will face Michigan two Saturdays from now.