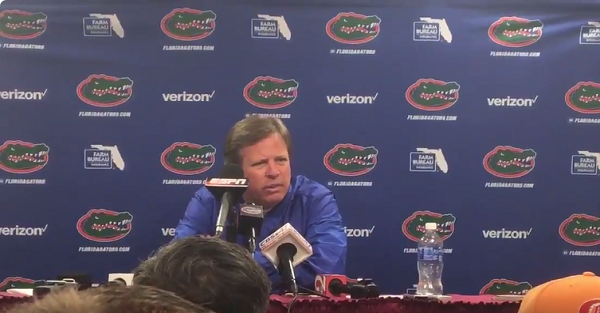 Twitter/@pinakk12
It's easy to understand why Florida coach Jim McElwain might have been upset after a 31-13 loss to Florida State. None of his seniors have a win against the Seminoles now and the offense looked horrific yet again. The defense did all it could, but that just isn't enough with all of the injuries affecting it right now.
RELATED: FSU seniors make history with win over Florida
That led one reporter to ask if the team could bounce back next week for Alabama in Atlanta and McElwain was none too pleased with that question:
I'm not sure I have ever seen McElwain that upset with a reporter after any game. He's usually a pretty humorous and jovial guy even when his team loses. So for him to go off on a reporter like that means he was absolutely pissed off about the loss and was really not feeling up to catering to the media this week.