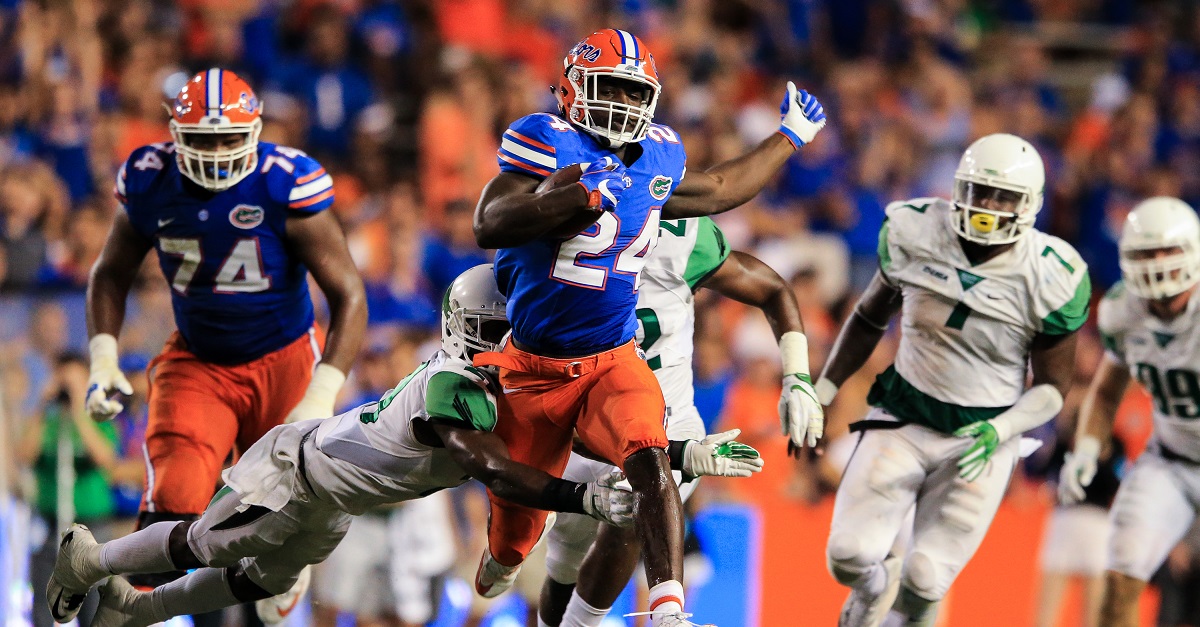 Rob Foldy/Getty Images
GAINESVILLE, FL - SEPTEMBER 17: Mark Thompson #24 of the Florida Gators in action during the second half of the game against the North Texas Mean Green at Ben Hill Griffin Stadium on September 17, 2016 in Gainesville, Florida. (Photo by Rob Foldy/Getty Images)
Florida Gators head coach Jim McElwain entered his weekly Monday press conference with some questions about injuries to a few of his players. Most notably was wide receiver Antonio Callaway who missed the game against North Texas with a quadriceps injury. While he seems to be getting better, McElwain still did not have a definite answer for his availability against Tennessee.
RELATED: Butch Jones updates injuries leading up to Florida game
Tennessee will be without several key players like cornerback Cam Sutton and linebackers Darrin Kirkland Jr. and Quart'e Sapp against Florida. But the Gators will have some of their own injury issues with starting quarterback Luke Del Rio out with a sprained MCL for at least two weeks.
RELATED: Luke Del Rio's injury not a season-ending one
Here's the full report from coach McElwain as transcribed by Gator Country's Nick de la Torre:
And to show that McElwain really has no clue if Callaway will play, he reiterated that he just doesn't know:
Tyler Jordan's eye injury is a somewhat odd occurrence as his mother believes he got a cyst behind his eye because of a previous orbital injury and he's had surgery to remove it. He is still recovering from that, but should be back this season.