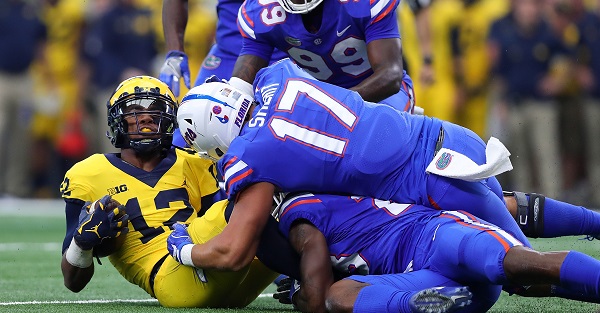 Tom Pennington/Getty Images
ARLINGTON, TX - SEPTEMBER 02: Chris Evans #12 of the Michigan Wolverines is tackled by Jordan Sherit #17 of the Florida Gators and Jachai Polite #99 of the Florida Gatorsin the first quarter of a game at AT&T Stadium on September 2, 2017 in Arlington, Texas. (Photo by Tom Pennington/Getty Images)
The Florida Gators are not enjoying the best season in 2017. Jim McElwain's team got off to an inauspicious start in a lopsided loss to Michigan and, while the team recovered for three straight wins after that hiccup, the Gators have dropped two in a row. In losses to LSU and Texas A&M, the defense did its part in holding both opponents to fewer than 20 points scored, bringing a reminder that the defense isn't exactly the problem in Gainesville.
With that said, the program will be now be dealing with a high-profile absence for the remainder of the 2017 campaign, as Matt Baker of the Tampa Bay Times brings word that defensive lineman Jordan Sherit will be on the shelf for the duration. McElwain made the announcement on Wednesday that Sherit went through hip surgery earlier this week and, as a result, he is ruled out for the rest of the season.
The redshirt senior has been a strong contributor to the Florida defensive front in the early going, notching 23 tackles, five tackles for loss and 2.5 sacks in six games. Unfortunately, he went down over the course of the loss to Texas A&M last week and tests revealed that surgery was the best course of action for Sherit.
McElwain referenced this as a "bad deal" and it is tough to argue. The Gators have plenty of defensive talent but this is a real loss.