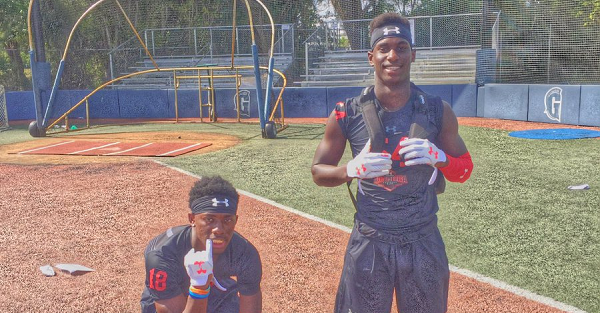 @Easymoney_Kai/Twitter
@Easymoney_Kai/Twitter
Kaiir Elam might have a familiar name to Florida fans as his uncle is Matt and was a former All-SEC and All-American selection. Now, it appears that the Gators are making him a priority in recruiting. At least, that's what he told 247Sports.
"Florida made me the number one CB that they are recruiting," said Elam. "[UF defensive back] Coach [Charlton] Warren told me he is going to recruit me really hard, and I was the number one guy on the board."
Elam said how much he is impressed with the new staff in Gainesville and that the new coaches love him.
"They are good coaches," he said. "Mullen and Warren they love me. I think they have a good thing going on right now. They have a different vibe. I just feel like they are good coaches, and they know what they are doing."
He also mentioned the other schools recruiting him hard in addition to Florida and its staff.
"Schools that are recruiting me hard, that brought the head coach down [to the Benjamin School during the contact period], are Florida, coach Dan Mullen came down, Auburn brought coach [Gus] Malzahn, Syracuse, Ohio State, I text with coach Urban Meyer almost every day, Stanford, coach [Duane] Akina, the DB coach, says he is going to be recruiting me real hard since it's only two DBs out of Florida they are recruiting, me and Josh Sanguinetti, and then Clemson."
He also spoke on the subject of his visiting schedule. He plans on taking all of his official visits before his senior season so he can focus on just playing football. So a commitment might be expected to come from him relatively soon in the recruiting process, but he also said he wouldn't make a commitment until it feels "like home" for him.
Elam is the No. 12 cornerback and the No. 21 recruit in the state of Florida according to the 247Sports Composite rankings. He also has offers from Auburn, Georgia, Louisville, Miami and Michigan among others.
Here are some of his highlights: