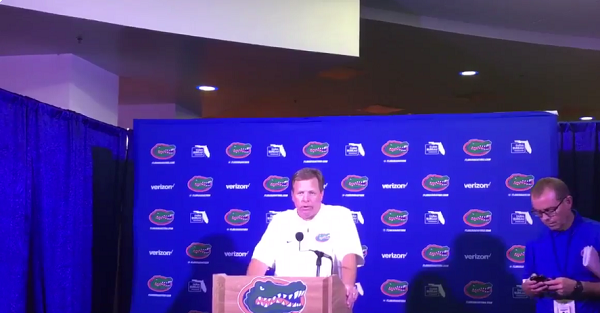 Twitter/@GrahamHall_
Florida downed North Texas fairly easily 32-0 on Saturday night, but didn't come out of the battle unscathed. The Gators lost starting quarterback Luke Del Rio to a leg injury and he's likely out for several weeks. Coach Jim McElwain discussed it a little bit after the game and gave an idea of how bad the injury might be.
RELATED: Florida QB knocked out of the game on dirty hit and OL gets ejected
He also gave a little explanation of why he ran out onto the field like he did to go after the North Texas sideline.
RELATED: Jim McElwain goes after UNT sideline after Del Rio hit
Backup quarterback Austin Appleby was asked about what he thought about potentially making his first start against Tennessee in Neyland Stadium. He was pretty confident that the 100,000 screaming fans wouldn't affect him that much.
Appleby came from Purdue as a graduate transfer so he's played in stadiums against the likes of Ohio State, Michigan, Michigan State and others so that might not be hyperbole. The SEC is a bit of a different monster though as the stadiums are generally louder, they're hotter and much less friendly.