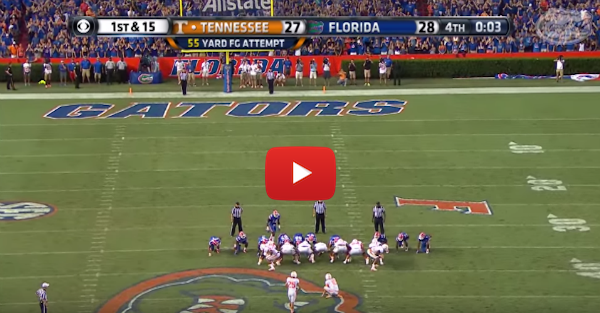 Florida (4-0, 2-0) defeated Tennessee (2-2, 0-1) on Saturday afternoon in a thrilling 28-27 comeback victory. Down 27-21 with just under two minutes left in the game, Florida was faced with a 4th and 14 on their own 37 yardline. After going 4-of-4 on the last fourth downs, it seemed improbable that Florida could convert again. But redshirt freshman Will Grier found true freshman Antonio Callaway who exploded 63 yards for a miraculous touchdown to allow the Gators go up 28-27 with just under a minute and a half to go.
Tennessee was able to drive down to midfield, but was unable to make the 55-yard field goal.
The voice of the Gators, Mick Hubert, had a fantastic call on both the touchdown and missed field goal to give Florida the victory.