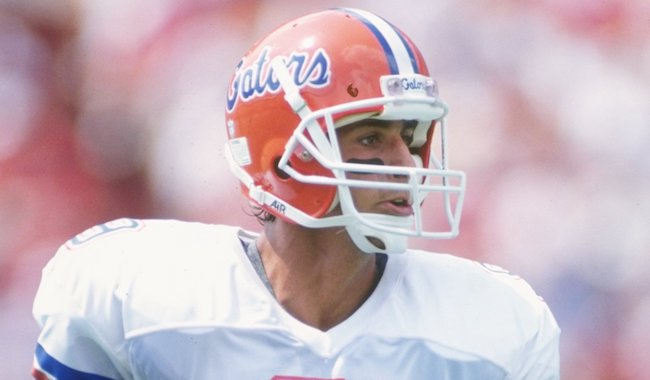 Rick Stewart/Allsport
15 Sep 1990: Quarterback Shane Matthews of the Florida Gators drops back to pass during a game against the Alabama Crimson Tide at Bryant-Denny Stadium in Tuscaloosa, Alabama. Florida won the game 17-13. Mandatory Credit: Rick Stewart /Allsport
Shane Matthews was a professional quarterback for more than a decade and, even with the caveat that he has not been in the public spotlight for some time, his name is extremely noteworthy to fans of the Florida Gators. After all, Matthews was an important member of the program in the early 1990's and mentions of his name would normally conjure positive memories.
However, this time, that isn't the case. Jay Weaver of the Miami Herald brings word that former Florida defensive back Monty Grow could be sentenced to 20 years in prison as a result of a healthcare fraud that was both significant and widespread. Though Matthews is not the central figure in the scheme itself, he is also implicated by proxy. The report indicates that Matthews, who is now 47 years old, was given a three-month sentence for what is termed as a "bit role working for Grow's marketing company."
That role paid him $440,000 according to the report and also seemingly landed him in hot water. It remains to be seen what the final penalties end up being for Grow but the more prominent former Florida player, at least from an athletic standpoint, will be headed to jail for three months.