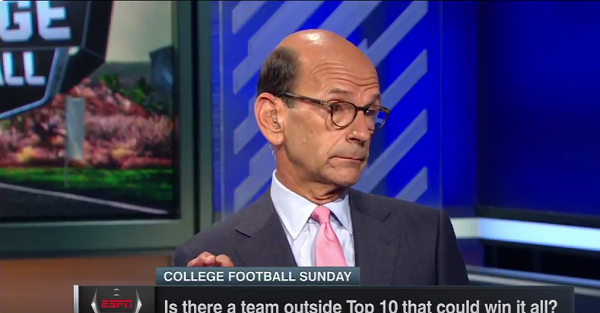 Twitter/@ESPNU
Everyone knows Alabama is pretty much guaranteed to go to the College Football Playoff at this point. The Crimson Tide have crushed everyone in their path and showed that even the best of the SEC East stands no chance as Alabama annihilated Tennessee 49-10 on Saturday. However, that doesn't mean another SEC couldn't make the playoffs.
RELATED: UF's secondary combines for two pick-sixes
While the rest of the ESPNU crew was discussing some possible sleeper picks in Baylor and West Virginia, Paul Finebaum threw out another team that could surprise some people if it "got really hot" near the end of the season.
The Gators are 5-1 with the lone loss to Tennessee, but have a tough schedule coming up with a game against Georgia in Jacksonville, one at Arkansas and the LSU game now in Baton Rouge later in November. And there's at least one other analyst who thinks Florida can succeed with the defense it has right now.
If the Gators can become road warriors and find some ways to win then they could very well win the SEC East and have a shot at Alabama in the conference title game.