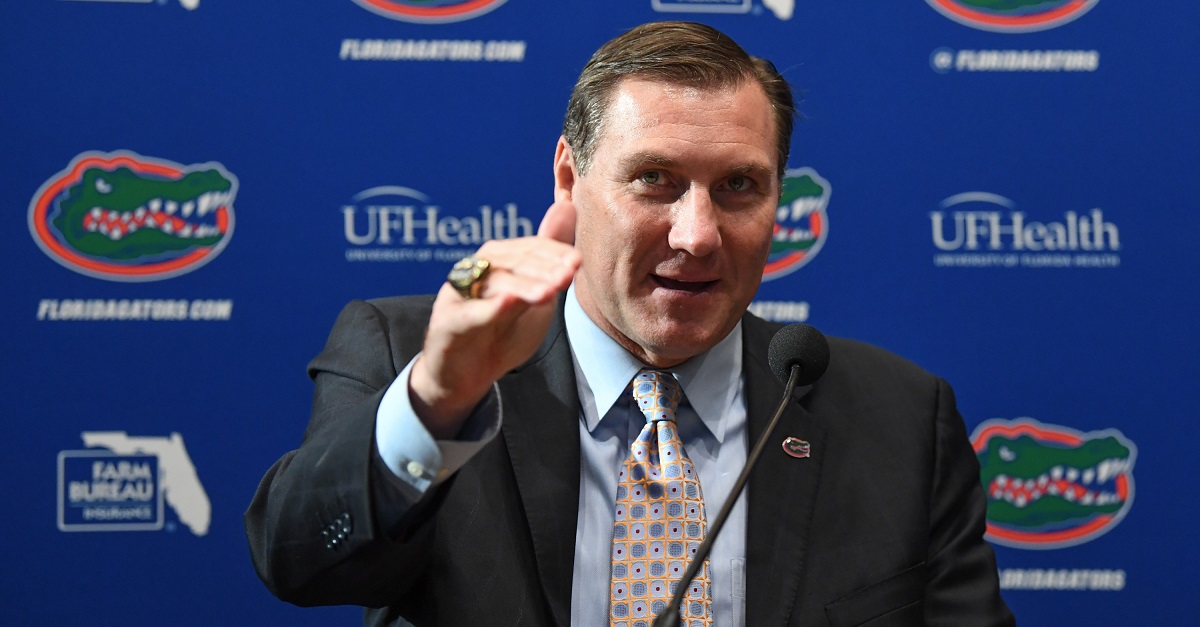 Rob Foldy/Getty Images
Photo by Rob Foldy/Getty Images
Plenty of schools put up banners for ridiculous things like NIT appearances or winning seasons, but there are some things that make sense like division, conference and national titles. However, Florida athletic director Scott Stricklin is making a major change before the Dan Mullen really gets kicked off at Florida.
He basically said that the school is trying to standardize all of its banners throughout all of its facilities and that means no division title banners will stay up or be put up in the future.
"Part of it is we're going through an assessment of our signage and our graphics at all of our facilities," Stricklin said. "We don't have any division titles listed at our facilities. Baseball has won a bunch of division titles but they aren't recognized anywhere. We recognized SEC and NCAA championships pretty consistently across all of our venues in every sport."
Of course, Florida has won an SEC East division title two of the last three years in football, but now those banners won't appear at the Swamp next time there's a game there. The Gators have not been shy about embracing a winning culture and for Mullen that means more than division championships.
"That's what Dan does. He is not afraid to be aspirational," Stricklin said. "There are leaders who are afraid to put themselves out there because if you put a high bar and don't reach it you're afraid of being criticized.

"Dan, his confidence is such a high level. He knows the expectations are going to be to win championships, so don't hide from it, talk about it. He's going to be judged, all of our coaches here are judged by their ability to win at that level."
It might feel weird to not see some familiar signage in the stadium, but football fans will be just fine with it if it means there's more room for conference and national championship banners.
[h/t 247Sports]