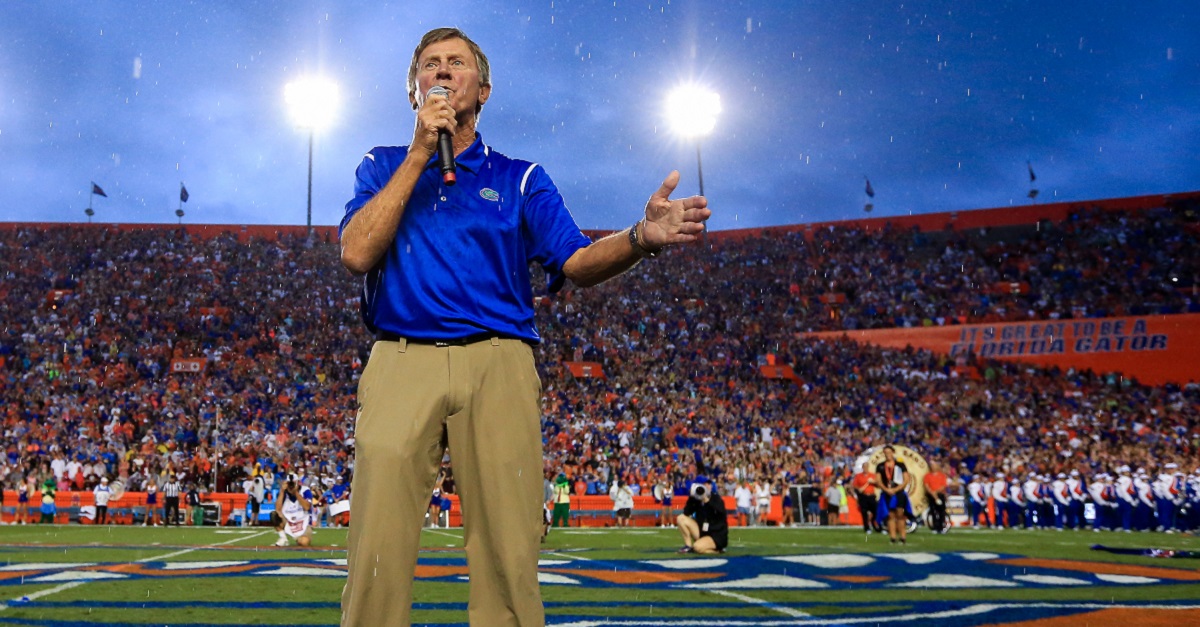 Rob Foldy/Getty Images
Photo by Rob Foldy/Getty Images
Rumored candidates are flying fast and furious in conjunction with the open Florida head coaching job and that was to be expected in the aftermath of Jim McElwain's ousting from Gainesville. While resolution may not come for a while, the words of Steve Spurrier mean quite a bit around that program and, apparently, a rumor started that Spurrier wanted to address this week.
In speaking with the Buddy Martin Radio Show (h/t Saturday Down South), Spurrier referenced the rumor that includes former Oklahoma head coach (and Florida assistant) Bob Stoops and, well, shot it down with haste.
?Someone started a rumor that I had told Bobby Stoops that McElwain would retire this year, he could resign in the summer and then all of a sudden say I miss it and come back. That was really insulting to think that somebody would think that I would do something like that. That was sort of sad and insulting. If I had done something like that, they ought to take my damn name off the stadium there at Florida. That would?ve been really disgusting if a person would ever stoop to that level to do something like that. No, no. Bobby?s got to speak for himself, but he?s said many times, ?If I wanted to continue coaching, I just left one of the best jobs in America. ? I could?ve easily gone another 4-5 years.? ? Bobby, I think, is very happy.?
Spurrier leaves no wiggle room here and, frankly, the rumor seemed a bit wild and absurd in the first place. Still, it says something that he even had to address it and this remains something of a weird situation to monitor right now.
Someone will be hired at Florida but, according to Spurrier, it doesn't appear likely that it will be Bob Stoops.