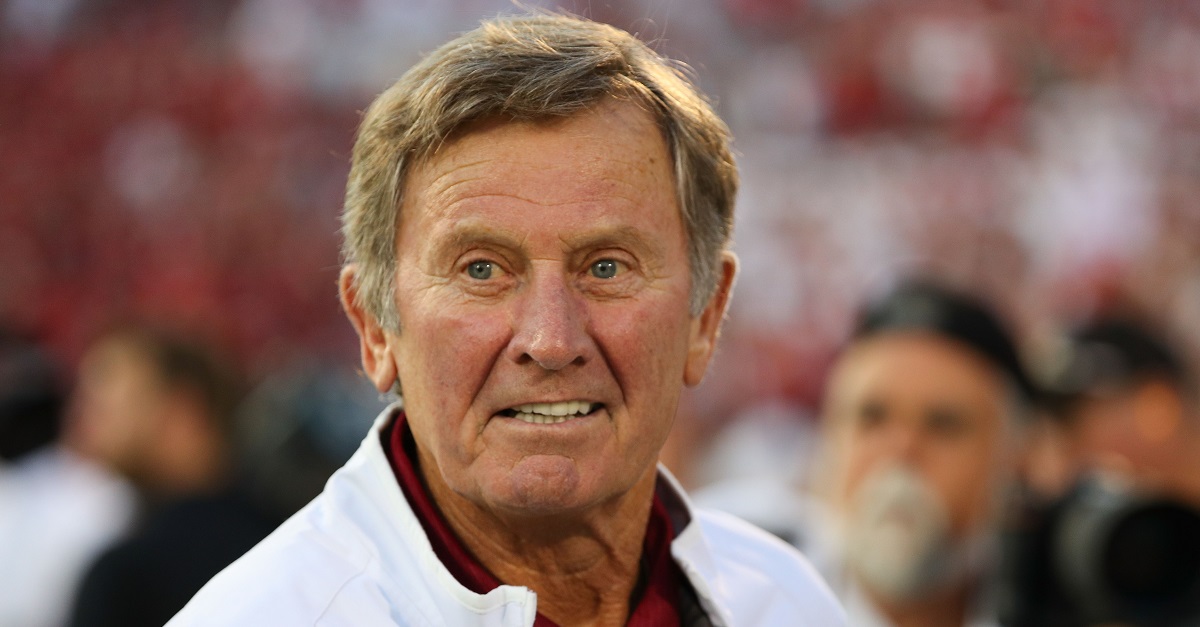 Scott Halleran/Getty Images
NORMAN, OK - SEPTEMBER 17: Steve Spurrier watches from the sideline prior to the game between Ohio State and Oklahoma at Gaylord Family Oklahoma Memorial Stadium on September 17, 2016 in Norman, Oklahoma. (Photo by Scott Halleran/Getty Images)
Steve Spurrier has not been overly shy in providing his thoughts on the Florida head coaching situation, especially through the prism of what the offense looked like under the leadership of the now-departed Jim McElwain. While Spurrier himself has already dismissed any talk of himself returning to the sideline in Gainesville, the legendary figure did float a potentially unlikely scenario that could come to fruition under the right circumstances.
Josh Kendall of The State brings word from Spurrier, who indicates that interim head coach and defensive coordinator Randy Shannon could be in play as the full-time head coach.
Spurrier believes Shannon has a chance to get the job full-time if he turns Florida's season around, he said, but he added he will have very limited impact on the coaching search.
While it sounds like Spurrier would advocate for him, he did go on to say that he won't much say in who ultimately becomes the next head coach at Florida.
"I may throw some names at (athletics director Scott Stricklin)," Spurrier said. "I'm not on the selection committee. Remember when they used to have those selection committees?"
Shannon has previous head coaching experience at Miami and, while it did not go swimmingly in Coral Gables, he is a well-respected voice. Immediately, Shannon put his mark on the program by reassessing the quarterback situation immediately and he shed light on his stint to the assembled media this week.
"I don't look at it as an audition. I just think the opportunity to coach and have fun with a bunch of guys, the student-athletes that you have a chance to be with. … We've got to go out there as a whole team and unit and coaching staff and have fun with these guys, be very enthusiastic, be very positive and whatever happens in the game early, we've got to weather the storm.

"And at the end of the day, that's the only thing that matters, what happened at the end of the game."
It does seem pretty unlikely that Shannon would be able to garner the full-time job but it isn't impossible if the Gators were to rattle off a strong finish in the same way that USC did under Clay Helton or LSU did under Ed Orgeron. Stay tuned.