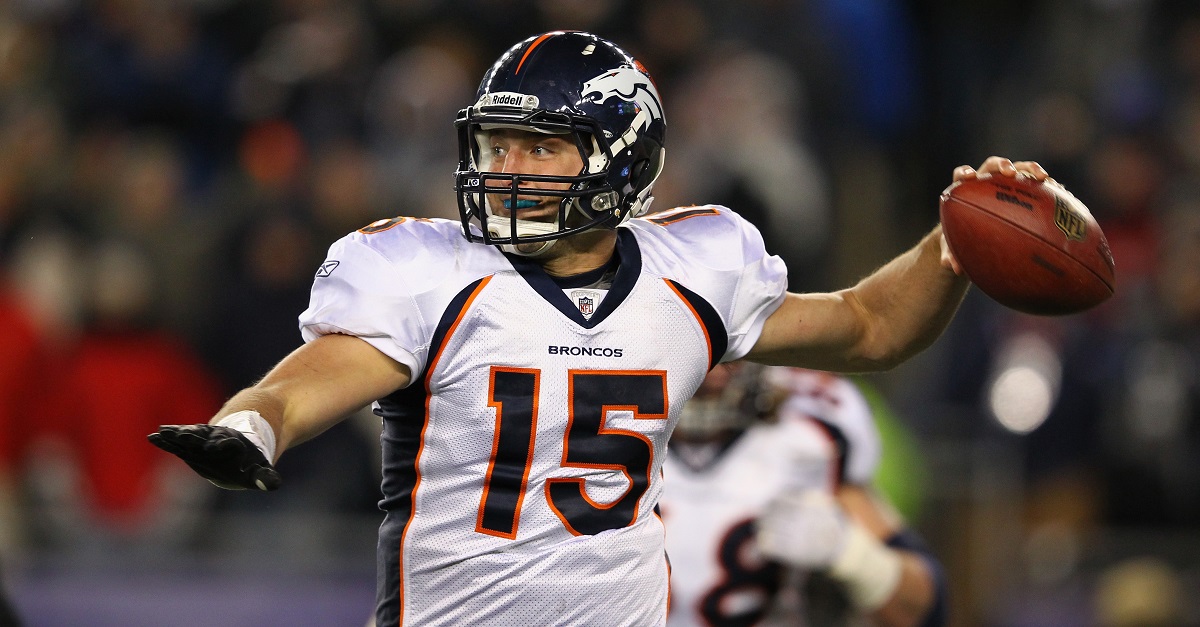 Al Bello/Getty Images
FOXBORO, MA - JANUARY 14: Tim Tebow #15 of the Denver Broncos throws a pass against the New England Patriots during their AFC Divisional Playoff Game at Gillette Stadium on January 14, 2012 in Foxboro, Massachusetts. (Photo by Al Bello/Getty Images)
Tim Tebow went through the ringer on Tuesday for a MLB tryout in front of a ton of team representatives. The majority of the league was represented in one way or another and it turns out Tebow actually performed pretty well.
RELATED: Tebow hit some bombs during workout, and now MLB teams are interested
He hit a few bombs and ran about a 6.8 60-yard dash, which is a solid number for a baseball player. Tebow also received an offer from a Venezuelan team to play in their winter league. In an interview with the NFL Network, Tebow said that his NFL is over and he's now focused on baseball as his future sport.
RELATED: Tebow receives significant contract offer to play baseball
While there are mixed rumors of how well the workout went it seems there are some teams that came away impressed.
I'm sure there are going to be plenty of fans out there who will miss Tebow for one reason or another. Some will miss making fun of him while others will actually miss him for his on-field miracles he seemed to pull out out of nowhere when the team needed it most. He's the winner of one playoff game and owner of a 47.3 percent completion rate over the course of his NFL career.
Here's a scouting report with grades ranging from 20-80 on various aspects of Tebow's game to give you a better idea of what he can do:
There will surely be plenty of jokes made about that arm rating and how he can't go downfield very far. Just get them out of the system now.
[h/t Uproxx]