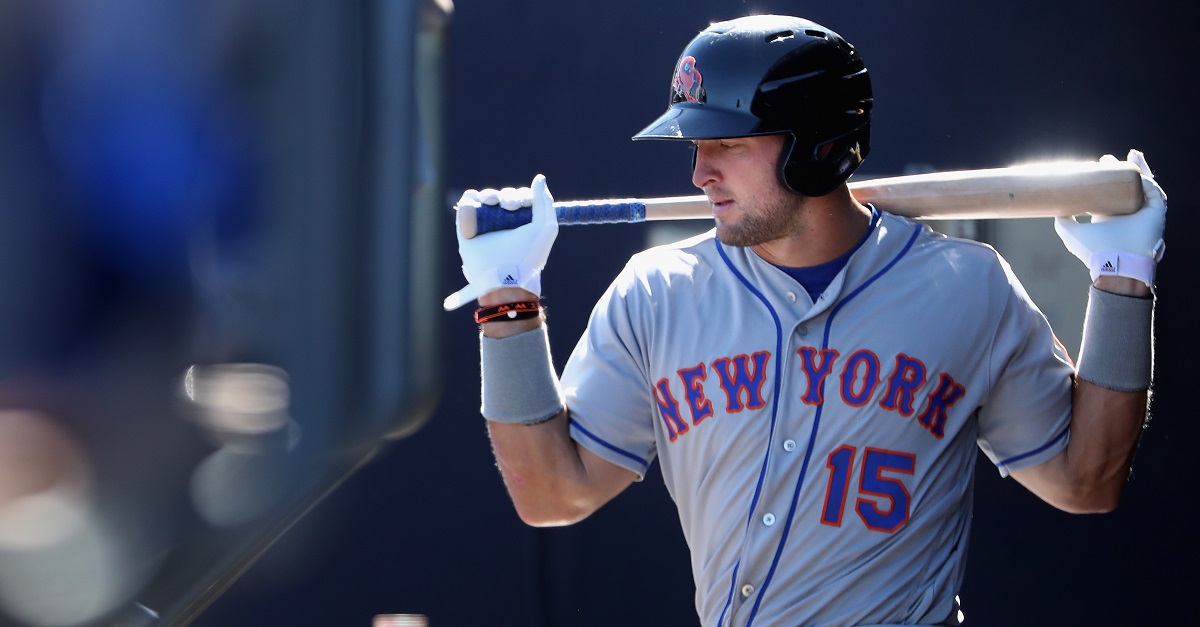 Christian Petersen/Getty Images
PEORIA, AZ - OCTOBER 13: Tim Tebow #15 (New York Mets) of the Scottsdale Scorpions warms up in the dugout during the Arizona Fall League game against the Peoria Javelinas at Peoria Stadium on October 13, 2016 in Peoria, Arizona. (Photo by Christian Petersen/Getty Images)
It's hard enough for former football National Championship-winning quarterback Tim Tebow to try to switch careers, but he's dealing with something far more serious than just hitting a small, stitched ball. He revealed to People magazine that his father has been diagnosed with Parkinson's disease.
Tebow says his dad, Bob, was diagnosed last spring. Tim recalls getting the bad news while he was in an Atlanta hotel room. "Talking to him that night, I wished that I could have been there with him. I asked him whether he needed me to come home, and he said, 'No, you need to keep doing what you're doing.'"
It's hard for anyone to come to grips with news like that and Tebow is no exception. He's become more protective of his dad and told People that he actually handles all of Bob's heavier luggage and still goes to him for spiritual advice. But the diagnosis hasn't changed Bob's outlook on life and he is still preaching and visiting orphanages in the Philippines.
Tim went on to say that now he has something bigger to play for in the Fall Instructional League. "He loves to come watch me, and then to talk about it later. It's one of the ways we spend time together." The younger Tebow also said that he's playing for both of them now.
[h/t People.com]