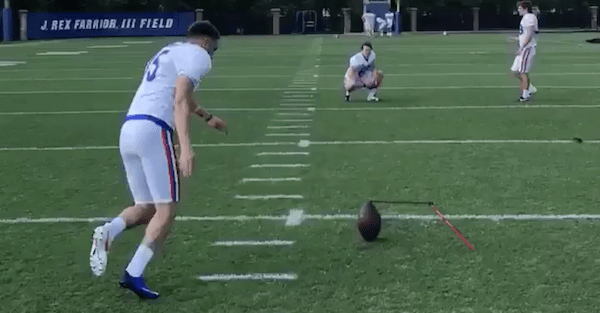 Twitter/@eddypineiro1
Florida kicker Eddy Pineiro had a highly successful freshman campaign in 2016, and he displayed one of the strongest legs in the conference throughout the season.
Pineiro will try to improve upon his freshman year in 2017, and he tweeted out a video of him connecting on an 81-yard field goal in pads on Tuesday.
Related: Eddy Pineiro is on campus and already kicking bombs
Pineiro connected on 21 of 25 field goals last year, including his last 11 attempts. He was also 32-for-32 on extra points.
On field goal attempts of 50 yards or more, Pineiro was an impressive 3-for-3 in 2016. He also made 12 field goals of 40 yards or more.
Florida had one of the best and most reliable kicking games in the SEC last season, and that should be another strength for the Gators this fall.
(h/t SEC Country)