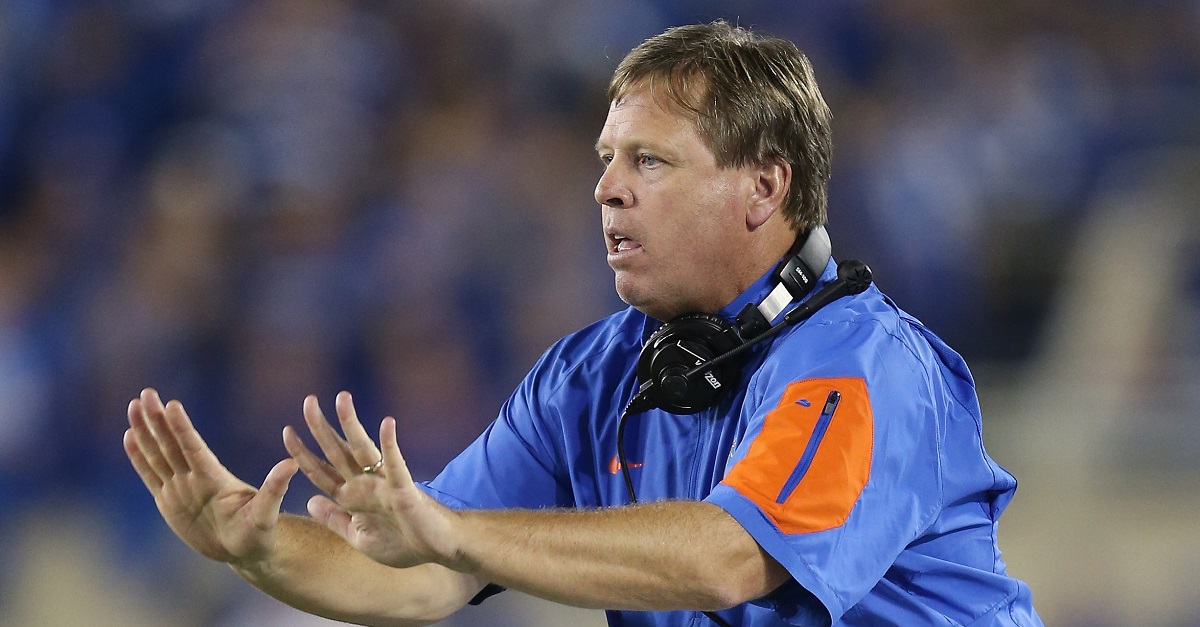 Andy Lyons/Getty Images
LEXINGTON, KY - SEPTEMBER 19: Jim McElwain the head coach of the Florida Gators gives instructions to his team against the Kentucky Wildcats at Commonwealth Stadium on September 19, 2015 in Lexington, Kentucky. (Photo by Andy Lyons/Getty Images)
Things aren't looking good for Jim McElwain at Florida. His Gators are 3-4 after a 42-7 loss to the No. 3 Georgia Bulldogs and they're on a three-game losing streak.
Things have been so bad, in fact, that there are reports coming out of the Florida-Georgia game in Jacksonville that the Gators are thinking about firing McElwain for cause, even going as far as to buy him out of his current contract.
That's terrible news for McElwain but at this point it appears he's near accepting his fate in Gainsville. Here's what he said after the Georgia loss in response to speculation about his job being on the chopping block, per ESPN:
"It's the first I've heard of it," McElwain said. "We'll see."
"At the end of the day, we were all brought here to win, and we haven't done it," McElwain said. "The concern isn't about my job. It's about the players and my staff. That's the concern. It isn't about me."
Not only is McElwain potentially on the chopping block, but Darren Heitner of SportsAgentBlog.com is reporting that not only are the Gators seriously considering firing McElwain, but they've already got a new head coach in mind.
Mike Norvell is the current coach at Memphis, halfway through his second year with the Tigers. He went 8-5 in 2016 but currently has Memphis poised to make some noise with a 7-1 record this season. On the same day of Florida's blowout loss, Norvell lead the Tigers to a 56-26 win over Tulane, extending Memphis' current win streak to four in a row. Previous to his stint with Memphis Norvell was the offensive coordinator and assistant head coach at Arizona State.
He'd be another SEC unknown for the Gators,who took a shot on McElwain coming from Colorado State, but it's hard to deny that Norvell would be an interesting option for a Florida team desperate for a spark — especially on offense.
Norvell's Tigers are currently scoring 39.4 points per game, which is among one of the top scoring figures in college football.