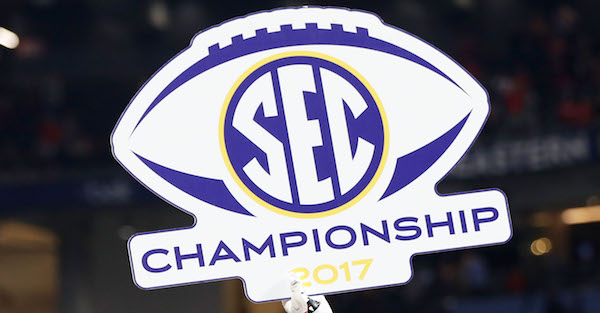 Jamie Squire/Getty Images
ATLANTA, GA - DECEMBER 02: Julian Rochester #5 of the Georgia Bulldogs and Lorenzo Carter #7 celebrate beating the Auburn Tigers in the SEC Championship at Mercedes-Benz Stadium on December 2, 2017 in Atlanta, Georgia. (Photo by Jamie Squire/Getty Images)
Georgia emerged victorious over Auburn in the SEC Championship Game and, for all intents and purposes, that victory sealed the first trip for the program to the College Football Playoff. That is, of course, on the heels of the committee virtually deciding (with its rankings) that the game was a play-in to the "Final Four" but someone forgot to tell CBS analyst Gary Danielson.
As the clock neared triple zeroes in Atlanta, Danielson weighed in with analysis on the CFP committee's pending decision and, well, he did not please anyone outside of Tuscaloosa.
"Let me say this, I don't think the committee should take this game into effect at all. I think game one to the last game, Alabama has been the most consistent team, I think you can make the argument that top-to-bottom, they had not had any bad games. They're one of the four best teams. That's the way I look at it."
It's at least somewhat unclear as to whether Danielson was arguing that Alabama should be in as the No. 4 seed alongside Georgia or whether his thinking centered on the Crimson Tide being the only SEC representative. Still, it was an instance in which nearly everyone watching the game live had some variation of confusion with his comments and this is one Danielson might want back, if only for the purposes of overall clarity.