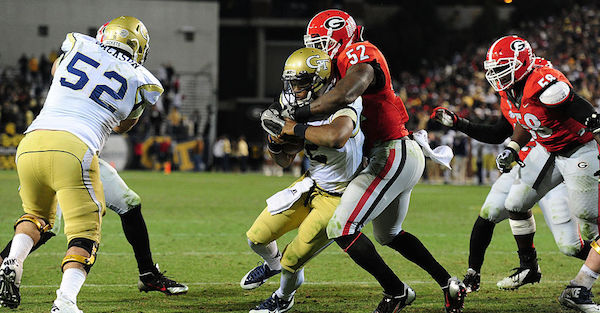 Scott Cunningham/Getty Images)
ATLANTA, GA - NOVEMBER 30: Vad Lee #2 of the Georgia Tech Yellow Jackets carries the ball for a first overtime touchdown against Amarlo Herrera #52 of the Georgia Bulldogs at Bobby Dodd Stadium on November 30, 2013 in Atlanta, Georgia. (Photo by Scott Cunningham/Getty Images) *** Local Caption *** Vad Lee; Amarlo Herrera
More and more football players are making the transition from the gridiron to the squared circle in recent years, and former Georgia Bulldog Amarlo Herrera might be the next former NFL player to get signed by the WWE.
It's been confirmed that Herrera was one of forty participants at the most recent WWE tryout in Orlando, FL.
Via 247sports:
"While continuing to pursue his NFL dream, former Georgia linebacker Amarlo Herrera tried his hand at another profession – wrestling. Per a press release, Herrera was one of 40 participants at a tryout this week at the WWE Performance Center."

"The group also included former college players, weightlifters, volleyball players, swimmers, independent wrestlers and mixed martial artists."
Even though Herrera was just cut by the Redskins, it appears as though he's not giving up on his NFL career and just looking at the WWE as another option in his career.
It should be interesting to see if the former Bulldog ends up getting a WWE contract, as former NFLers have had a lot of success in the past for the WWE.
Goldberg, prior to his wrestling career in WCW and WWE, played at the University of Georgia, too. Brock Lesnar, his WrestleMania 33 opponent, of course, had a brief NFL run as well.