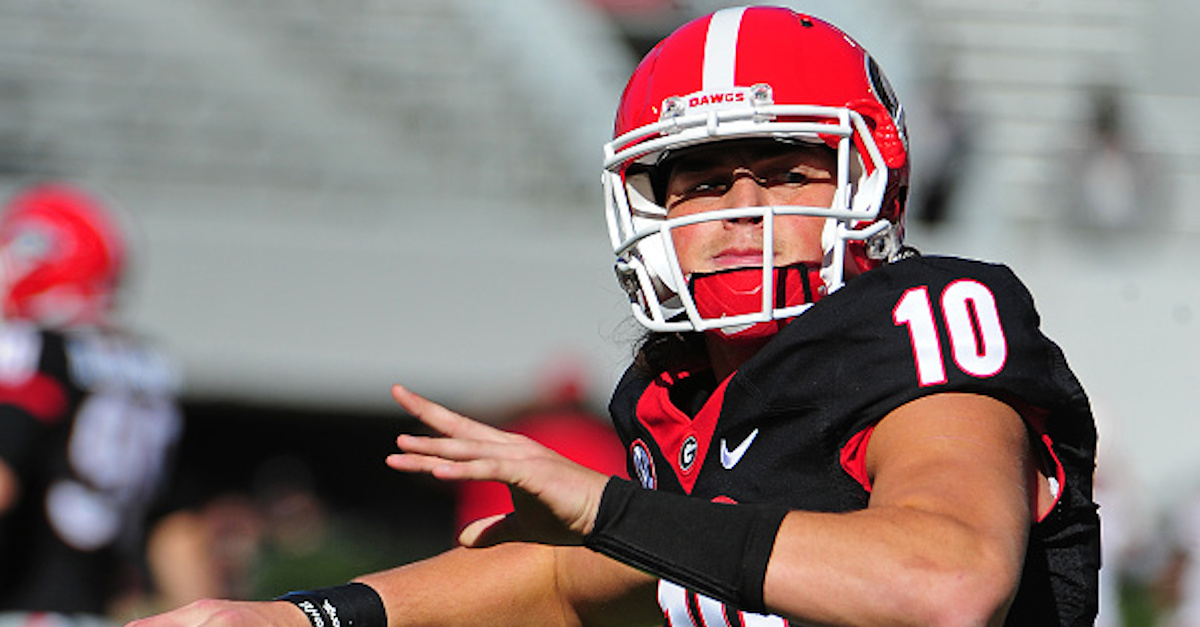 Scott Cunningham/Getty Images
ATHENS, GA - NOVEMBER 19: Jacob Eason #10 of the Georgia Bulldogs warms up before the game against the Lousiana-Lafayette Rajin' Cajuns at Sanford Stadium on November 19, 2016 in Athens, Georgia. (Photo by Scott Cunningham/Getty Images)
Archie Manning knows a thing or two about the quarterback position, and that's great news for fans of the Georgia Bulldogs because he really likes their current gunslinger.
Manning, who is, of course, Peyton and Eli's father, but also a former quarterback himself, recently spoke very highly of current Georgia quarterback Jacob Eason, who attended the Manning Passing Academy last weekend in Thibodaux, Louisiana. In fact, Eason was a camp counselor.
Dan Mathews of Gridiron Now spoke to Archie about the 6'5″, 235-pound sophomore quarterback from Lake Stevens, Washington.
"From my observation, I thought Jacob did very well," Manning said in a phone interview with GN. "One night, it was in the rain and he still (performed well). These quarterbacks are getting better and better. They can really throw. They're really impressive. They're big and, of course, he's the biggest."
Eason has a chance to be one of the top quarterbacks in college football this season, and at the very least that's the expectation down in Athens. A former five-star recruit, he played in all 13 games in his freshman season for the Bulldogs, starting 12. He passed for 2,430 yards and 16 touchdowns in his inaugural campaign, leading two game-winning drives on the road — which certainly increased the hype around him. Yes, he did throw eight interceptions on the season and there were times when he certainly looked like a true freshman, but all-in-all, it's hard not to believe that his future for the Bulldogs is extremely bright.
According to the elder Manning, Georgia head coach Kirby Smart wanted Eason at the camp to learn from Peyton Manning, who's also a big quarterback at 6-foot-6.
"Peyton's right at almost 6-foot-6 and there's a lot of similarities there in their style, so I would think he picked up some things, being as young as he is. Hopefully he got something out of it."
Learning from one of the best of all-time is certainly a perk of being a camp counselor that most "normal" people aren't afforded, but it's not like the camp was a walk in the park for Eason. Sure, he was teaching football and being taught himself, but he also had to find a way to stand out among some of the best quarterbacks in the game.
Eason was one of the big names in attendance for the quarterback camp, but he wasn't the only one. Heisman Trophy winner Lamar Jackson was there, as was Jalen Hurts from Alabama, USC's Sam Darnold, Texas' Shane Buechele and Washington's Jake Browning, among others.
It seems like Eason did stand out, though, at least according to Archie.
"His size, obviously, that's the first thing," Manning said. "His mechanics were good and the ball was coming out good. There's no reason to believe that he's not going to get better and better."
Eason kicks off his second season with the Bulldogs against Appalachian State on September, 2nd.
(H/T 247Sports)