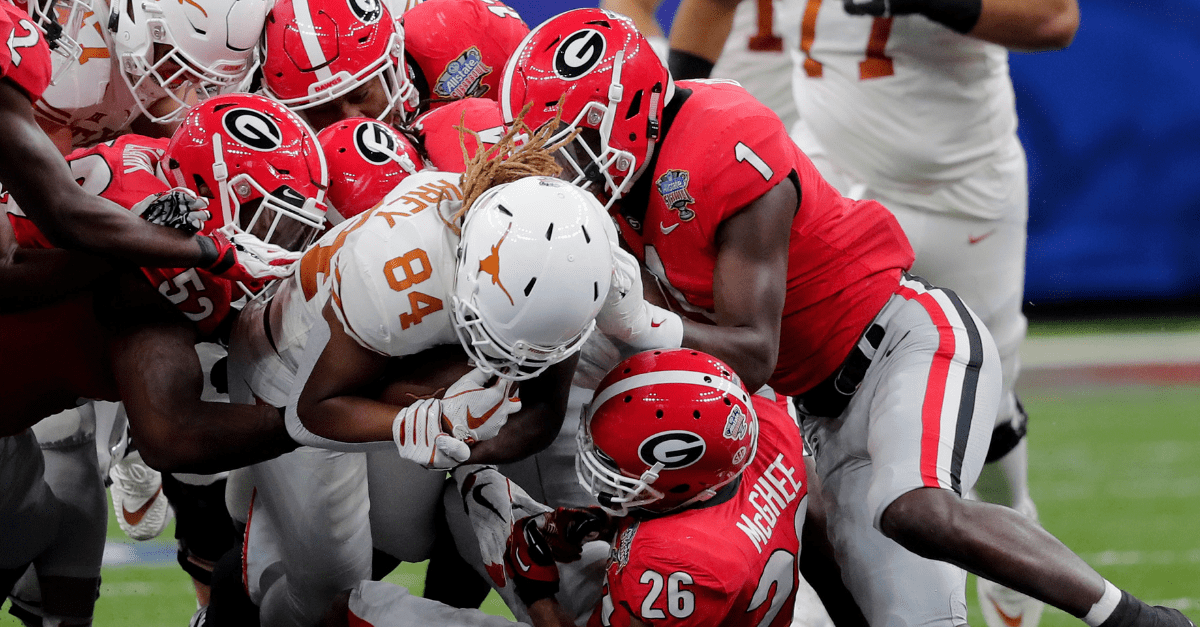 AP Photo/Gerald Herbert
For the Georgia Bulldogs, this offseason was far from a quiet one. Bar fights. Arrests. Promotions. These past few months have filled the college football headlines for both good and bad reasons. Now, it appears one player might no longer be part of the program.
Sophomore linebacker Brenton Cox has reportedly been dismissed by Georgia head coach Kirby Smart.
According to UGASports.com reporters Anthony Dasher and Radi Nabulsi, the dismissal took place on Sunday. Neither Smart or defensive coordinator Dan Lanning has made any public comment, and the reason for Cox's dismissal is unknown at this time.
RELATED: Nation's Former No. 1 RB Cleared for Return to Georgia Football
Cox, a former five-star recruit from Stockbridge, Georgia, was arrested in his dorm room by the University of Georgia Police Department alongside fellow linebacker Robert Beal back in April and taken into custody by the Athens-Clarks County Police Department for possession of marijuana, a misdemeanor charge.
When asked about the expectations for Cox in 2019, Lanning replied, "That's a good question. I would actually leave that up to Coach Smart at this time."
Was Cox going to be suspended? Did the arrest force the dismissal? Did something else happen? There are so many questions and not very many answers coming from the Bulldogs football program at the moment.
Although nothing is official just yet, 247Sports is reporting the sophomore outside linebacker has entered the NCAA Transfer Portal.
Cox played in 13 of 14 games last season with a start against the Texas Longhorns in the Allstate Sugar Bowl. He recorded 20 tackles, including two tackles for loss and one sack, as a true freshman in 2018.
Better days are ahead for the UGA football team at Sanford Stadium this season, but if the report is true, losing a player as talented as outside linebacker Brenton Cox is not fun for a team trying to compete with the Alabama Crimson Tide for an SEC title and possible College Football Playoff berth.
Brenton Cox Transfers to Florida
It didn't take long for former Georgia Bulldogs linebacker Brenton Cox to find a new home. Less than a week after entering the NCAA Transfer Portal, the 6-foot-4 outside linebacker is ready to get back to playing college football.
According to 247Sports, Cox has decided to transfer to the Florida Gators and play for head coach Dan Mullen. He has apparently already enrolled at the University of Florida and was expected at practice in Gainesville on Friday.
Cox has NFL potential. He showed flashes of that as a freshman last year. Georgia losing a talented player like this was obviously not fun, but for him to go to their bitter SEC East rival during the preseason is as cruel as it gets.
Only time will tell if Brenton Cox will be granted immediate eligibility by the NCAA, but the Gators should be happy to land a player that knows a thing or two about one of their toughest opponents on the schedule.