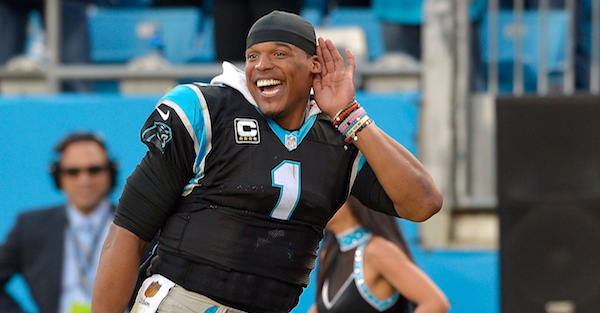 Grant Halverson/Getty Images
CHARLOTTE, NC - DECEMBER 13: Cam Newton #1 of the Carolina Panthers listens to the fans cheer during the final seconds of a win against the Atlanta Falcons at Bank of America Stadium on December 13, 2015 in Charlotte, North Carolina. The Panthers won 38-0. (Photo by Grant Halverson/Getty Images)
Cam Newton is originally from Georgia, so it makes sense that he pokes fun of the Bulldogs from time-time-time. After all, Newton, a top quarterback from the 2017 class, choose to commit to the Florida Gators over Georgia back when he was making his collegiate decision.
Of course, Florida didn't work out for Newton, but Auburn certainly did…and the rest is history. He went on to lead the Tigers to a BCS National Championship while winning the Heisman Trophy. Considering the fact that Newton grew up in Atlanta, that had to be hard to watch for some Georgia fans.
Oh, the possibilities for the Bulldogs.
Newton's brother, Caylin Newton, is well on his way to his own stellar career as a college quarterback, and if last weekend's win over UNLV is any indication, Georgia may end up regretting missing out on him as well.
At least, that's what Newton told Panthers.com, as passed on by AL.com:
"I was teasing (Carolina Pro Bowl linebacker and former Georgia All-American) Thomas (Davis)," Newton said. "I said, 'Man, listen: Georgia needs a winner, and every Newton I know is a winner. You dig what I'm saying?' So they missed out on yet another one."
The younger Newton's Howard team beat UNLV, 43-40, in a shocking upset. It was Newton's first game as a college quarterback and he completed 15-of-26 passes for 140 yards and a touchdown. He also rushed 21 times for 190 yards and two touchdowns, so he was undoubtedly a major player in the Bison's historic victory.
Howard was a 45-point underdog, and Caylin, much like Cam, grew up right under the Georgia Bulldogs' nose.
His only offers as a 2017 three-star quarterback were from Howard, Hampton, Kentucky Christian, and Savannah State, so perhaps Georgia won't be the only school kicking itself by the time all is said and done.