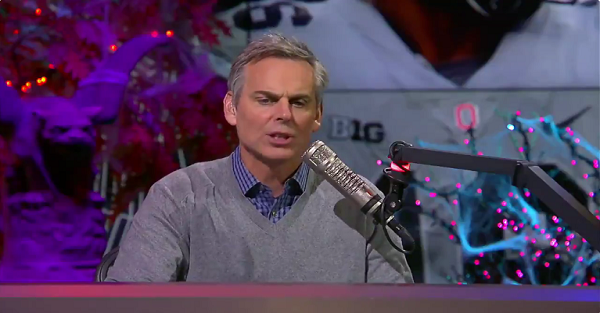 @TheHerd/Twitter
@TheHerd/Twitter
The Georgia Bulldogs are currently 8-0 and ranked No. 1 in the SEC East, and ranked No. 2 nationally according to the AP Poll. They're likely on a collision course with No. 1 Alabama in the SEC Championship game assuming both teams win out for the rest of their schedules. But even if they were to lose to Nick Saban and the Crimson Tide in the SEC title game, a one-loss UGA would have a great argument for the College Football Playoffs.
Factoring in a loss to Alabama being the only loss on the books, the Bulldogs would still boast wins at No. 24 Notre Dame, vs. No. 17 Mississippi State, and at highly-ranked Auburn. That's also assuming UGA beats Auburn, currently 6-2 and ranked No. 16 nationally.
An SEC title win would obviously put the Bulldogs in the CFP, but the point here is that a one-loss Bulldog squad still has a great chance. That seems to make sense.
That is unless you're Colin Cowherd, who just can't see the CFP shaking out that way for Kirby Smart's team.
Here's what Cowherd said in the video:
"I don't want to hear about Alabama-Georgia. They play probably in the last game of the year on a neutral field. It makes absolutely no sense. First of all, the SEC's not good enough this year to have two teams, and it makes absolutely no sense to have 'Bama play Georgia on a neutral field and have them play three weeks later on a neutral field."
Cowherd's point here is that it doesn't make sense for the CFP to feature a rematch between two teams that basically played in a bowl game against each other a few weeks before, and from a pure television rating standpoint — he's probably right. What he doesn't take into account is the fact that the CFP should be played with the best four teams in college football. Let's say Georgia loses in overtime to Alabama in the SEC championship game or because of a fluke play. Couldn't a strong case be made that it could have easily gone the other way and that Georgia really still is a top four team?
That's where CFP seeding and inclusion gets tough and a scenario like that is one of the main arguments for a bigger CFP field.
Of course, UGA could shut down all of that talk by simply winning out, which would likely get the Bulldogs the No. 1 seed and this is all a moot talking point.
That's the scenario Smart and the Bulldogs have to push for.