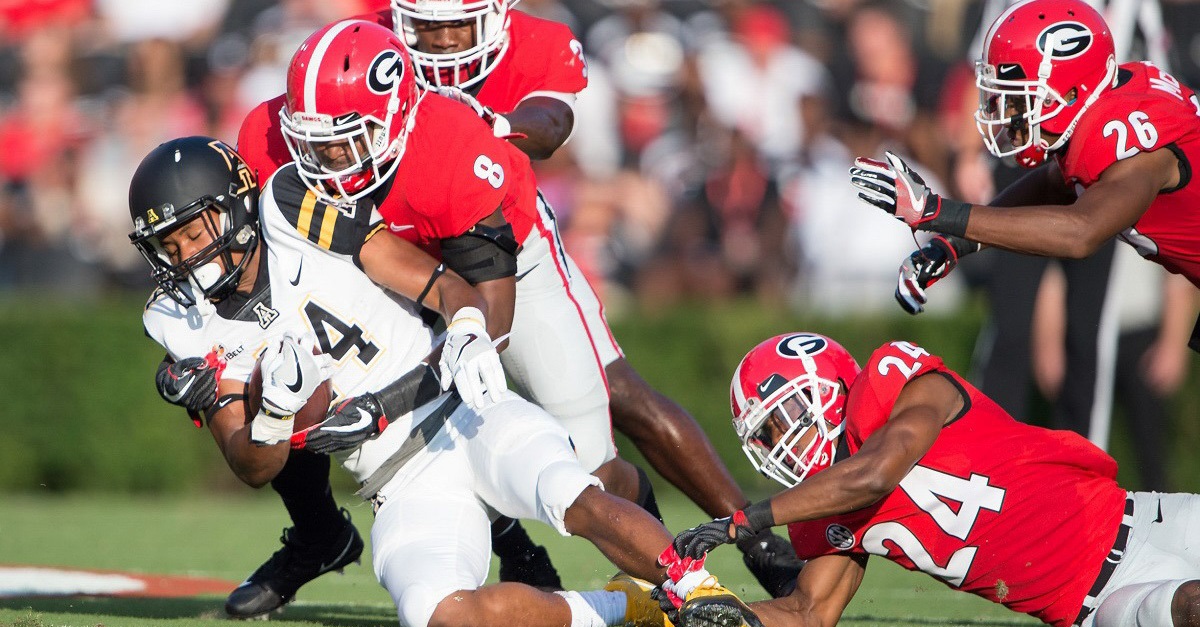 Michael Chang/Getty Images
ATHENS, GA - SEPTEMBER 2: Defensive back Deangelo Gibbs #8 of the Georgia Bulldogs and safety Dominick Sanders #24 of the Georgia Bulldogs tackle wide receiver Malik Williams #14 of the Appalachian State Mountaineers at Sanford Stadium on September 2, 2017 in Athens, Georgia. (Photo by Michael Chang/Getty Images)
Georgia Bulldogs defensive back Deangelo Gibbs is reportedly not with the team ahead of the Rose Bowl due to a medical issue, according to 247Sports.com.
The report indicated that the severity of the medical issue is not yet known and the team is hoping to have Gibbs back healthy as soon as possible. Gibbs has missed the past five games for the Bulldogs and did not travel with the team to the SEC Championship Game against Auburn. He has registered just three tackles this season and a quarterback hurry.
Gibbs was highly-touted coming out of high school and most expected him to compete for a starting spot on the team. He was ranked as the No. 49 overall prospect and the fourth-ranked safety in the 247Sports Composite rankings.
The third-ranked Bulldogs face off against No. 2 Oklahoma in the College Football Playoff Semifinal on New Year's Day.