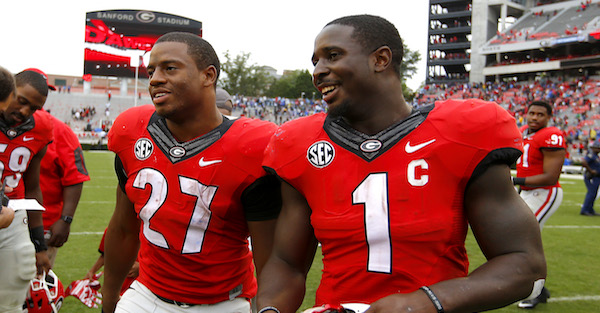 ATHENS, GA - SEPTEMBER 26: Running back Nick Chubb #27 of the Georgia Bulldogs celebrates with running back Sony Michel #1 at the conclusion of the game against the Southern University Jaguars on September 26, 2015 at Sanford Stadium in Athens, Georgia. The Georgia Bulldogs won 48-6. (Photo by Todd Kirkland/Getty Images)
As if Nick Chubb's return from injury wasn't already an uphill climb for the University of Georgia, news that last year's leading rusher Sony Michel broke his forearm is not what Dawg fans were looking for following the holiday weekend.
Related: Here's when Nick Chubb expects to be back
Michel was expected to be a stabilizing force for the Georgia team with questions at quarterback and offensive line. Whether Michel can be back for the opening contest is questionable at this point:
Michel had over 1,000 yards rushing, was the second-leading returning pass catcher and contributed 11 total touchdowns.
Eight weeks from Saturday, the Bulldogs will match up with the North Carolina Tar Heels to open the season. There are differing reports on when Chubb will be ready to return, but the player himself expects to be back for the opener.