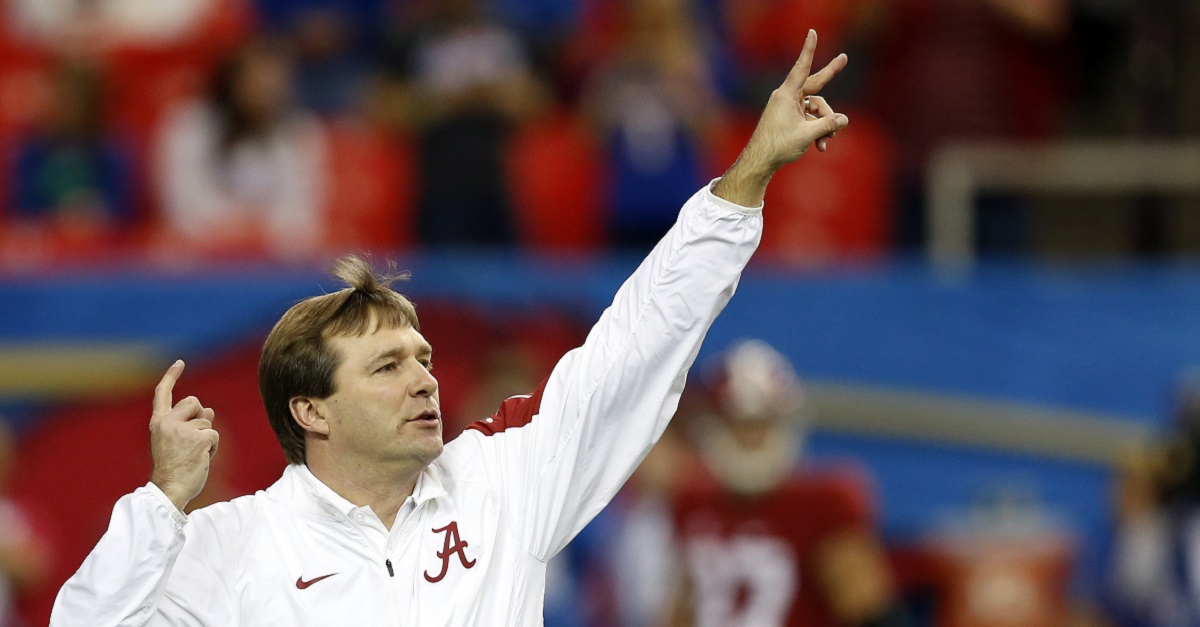 ATLANTA, GA - DECEMBER 5: Defensive coordinator Kirby Smart of the Alabama Crimson Tide looks on before the SEC Championship game against the Florida Gators at the Georgia Dome on December 5, 2015 in Atlanta, Georgia. (Photo by Mike Zarrilli/Getty Images)
This summer has been all about the quarterback battle in Athens as three guys are duking it out to see who starts in the first game of the season against North Carolina on September 3rd. While many people want true freshman Jacob Eason to start — since everyone believes he's the most talented QB on the roster — there are some who want the older and more experienced Brice Ramsey or Grayson Lambert to start.
RELATED: Jacob Eason might be closer to taking over the starting QB spot than we think
We got a little more insight as to when the battle should be over as head coach Kirby Smart went through the ESPN car wash on Monday knowing he was going to be asked about it all day. Smart said on First Take that the three young men would battle it out in practice over the next month.
"Ultimately, it is going to go to the guy who gives us the best chance to win that opener," Smart said. "We would like to say, after the second scrimmage, that we narrow it down and figure this thing out."
RELATED: ESPN analyst on Eason: "There's a lot of cause for concern."
So there we have it. We should have an answer fairly soon coming in August. Most fans like Eason and think he's supremely talented and it seems his coach agrees as he told Booger McFarland on Mike & Mike Monday morning as well.
"Booger you keep saying the guy (Eason) that is the No. 1 player is the best-talented guy, and I agree," Smart said. "You got your opinion. But I'll say this, I have got two young men on that team who are great leaders."
This would be the part where Dawgs fans are screaming about how they can be great leaders from the bench and that Eason can learn from them on the fly and with them on the sidelines. However, that's not how football always works and Smart understands that having spent so much time with Nick Saban and how he handles his quarterbacks.
Smart then went on to say that Eason has to earn the trust of his teammates in order to win the starting job as well.
[h/t 247Sports]